The evolving "Internet of Things" (IoT) is bringing about a new level of interconnectivity among devices, people, and organizations. The acceleration of IT interconnectivity in the supply chain function also creates potential risks if organizations do not ensure that they are making the right investments and have a plan of what they hope to get out of their IoT investments. The physical supply chain and the infrastructure that supports it (from manufacturing to delivery) are rarely designed with point-to-point IT risk management in mind.
In early 2016, APQC fielded a survey to determine supply chain priorities, performance, and trends. As part of this research APQC wanted to understand whether IoT is a priority for organizations and how they are using it. According to the survey, using IoT to help streamline the supply chain is a priority for more than 40 percent of participating organizations.
Organizations are looking for new ways to use IoT to help digitize the value chain. In an interview with APQC, Rich Beck, senior vice president of global supply chain operations for PepsiCo, spoke about the organization's global supply chain innovation efforts. According to Beck, digitizing the value chain at PepsiCo is about end-to-end integration of its supply chain from a systems perspective, from strategy to execution. PepsiCo is using mobility and cloud-based applications to gather and connect information.
Half of survey participants say their organizations currently use mobile technologies related to the IoT to help streamline the supply chain. Slightly less than half say their organizations use cloud services for this purpose.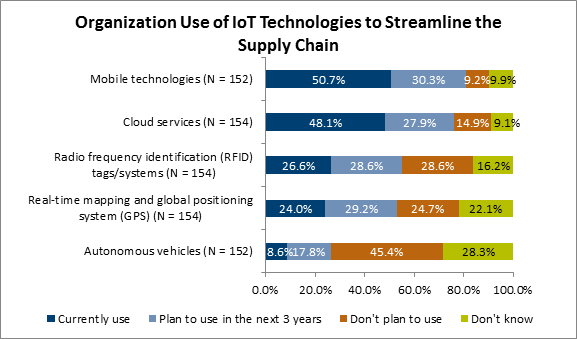 Many organizations have already adopted IoT technologies to help them collect more data and use it to learn more about their customers, shipping practices, and overall process efficiencies and gaps. More organizations are jumping on the bandwagon and looking at the technologies that are best suited for their businesses, like sensors, mobile technologies, and cloud technologies. While organizations are considering these new technologies, potential risks should also be considered (i.e. cyber-attacks to interconnected systems and cloud, counterfeiting of parts in mobile technologies, and technology obsolescence before full implementation in the organization).
*Please note that some pieces are available to nonmembers of APQC, while some are only available to members. APQC membership gives you access to so much more. See if your organization is a member and register today!
Stay up to date with our upcoming supply chain management and product development research, webinars, and more by visiting our expertise page.
Follow me on Twitter: @AJStroud_APQC