During APQC's recent study on sales and operations planning (S&OP), we found that certain technologies are driving more capable and efficient S&OP processes. Specific industries are adopting technology such as AI and data analytics to address planning challenges, which indicates a critical competitive shift other organizations will soon be compelled to follow.
Technologies Improving S&OP Processes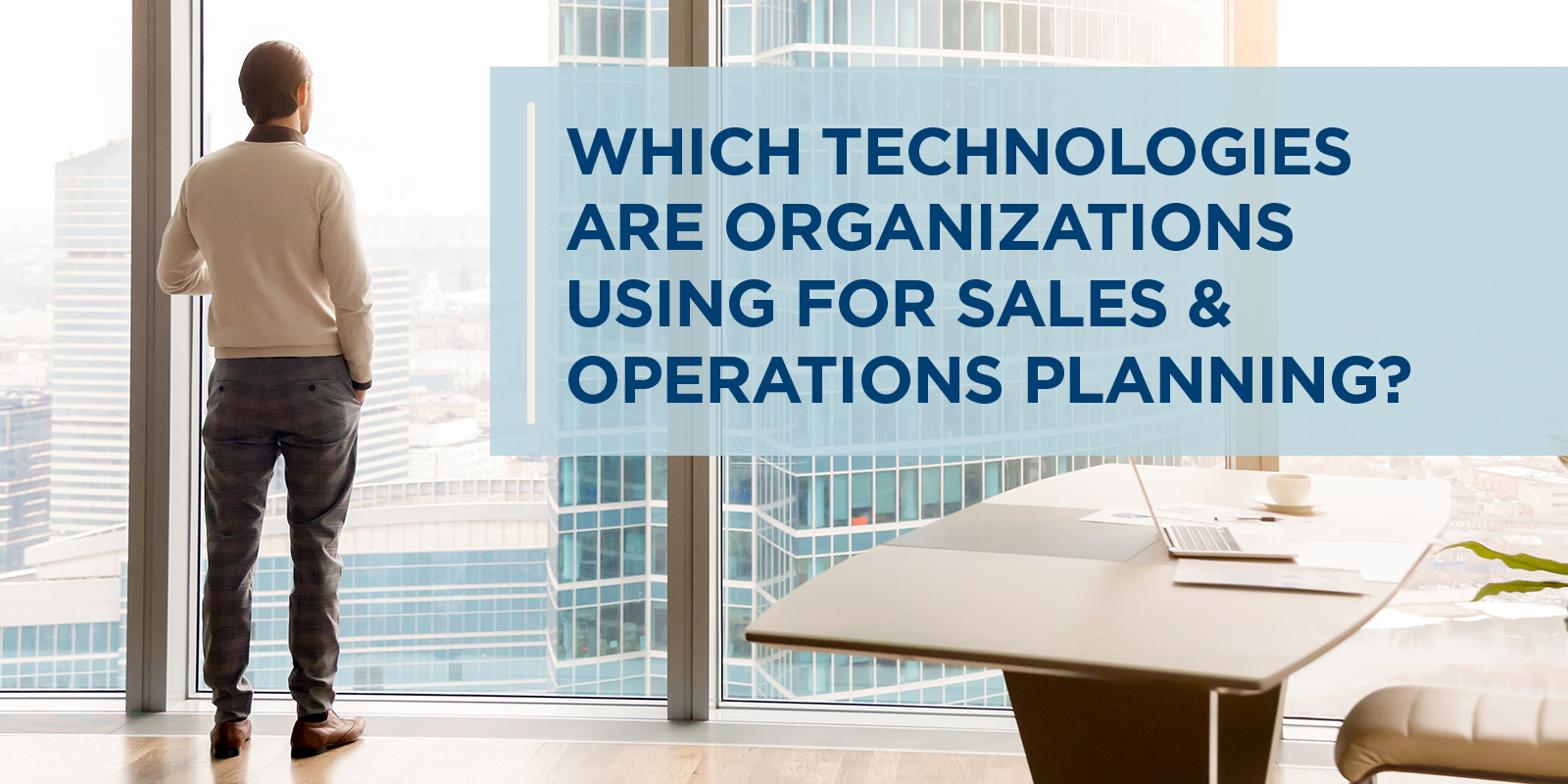 Organizations in every sector struggle with pulling data from information silos to generate insights. Such silos pose a critical challenge in trying to inform S&OP decisions with all the necessary data inputs—especially in a timely manner.
At APQC, we recently surveyed organizations regarding how they are aggregating data across functions such as production and finance to create one set of estimates and assumptions.
Respondents across the globe are using cloud computing, big data and analytics, AI, and digital solutions in their S&OP processes. How do these technologies drive S&OP efficiency and effectiveness?
Cloud computing helps automate real-time communication among functions and departments so that S&OP decision making is more collaborative.
Big data and analytics inform planning by examining large, unstructured data sets for insights into business patterns, customer behavior, market trends, and more.
Sensors and devices connected to the IoT generate massive data streams that can drive real-time insights.
AI can support S&OP decisions by analyzing historical records, tracing problems, and providing predictions.
Supervisory control and data acquisition, or SCADA, control system architectures enable an organization to supervise processes at a high level by networking all communications and interacting systems.
Digital solutions—technologies that integrate various communications and operational methods—link and combine cross-function data and help firms operate in an omni-channel environment. By considering many parameters (e.g., events, promotions, and business conditions), these tools enhance the end-user experience and staff satisfaction.
In short, organizations use these tools to align data sources, complex perspectives, and disconnected processes. By addressing these three key S&OP challenges, such tools can help to more efficiently and accurately drive comprehensive supply and demand forecasts. And these improved forecasts, in turn, better inform production scheduling, inventory management, logistics, supply chain management, and financial planning.
Technology Implementation by Industry
Although there are overarching trends in technology adoption, industry needs are driving the earliest adopters and revealing relative laggards. This chart shows an industry breakdown of implementation of: 1) cloud computing; 2) big data and analytics; 3) AI, IoT, and SCADA; and 4) digital solutions.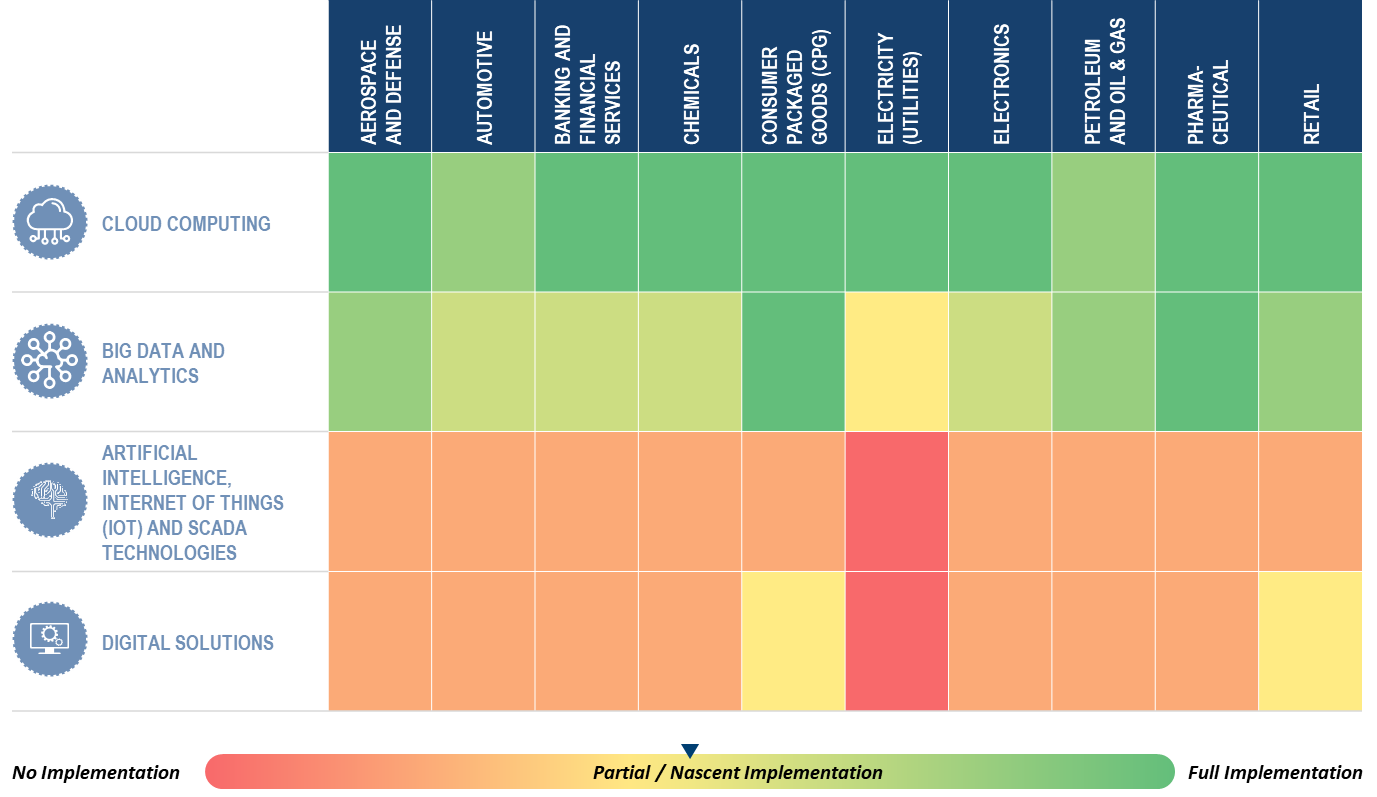 In recent years, cloud computing has been fully adopted by all major sectors, with the exceptions of the petroleum/oil & gas and automotive industries a few steps behind. The full adoption of this technology can be attributed to how easily it integrates with multiple data sources, whether legacy enterprise resource planning (ERP), customer relationship management (CRM), or finance systems.
Big Data and analytics are widely used in industries that generate large volumes of fragmented data. Its ability to derive insights from massive, unstructured data sets is especially applicable to the S&OP process. For example, the pharmaceutical industry needs to process and analyze data from numerous sources—such as hospital records, physician notes, and clinical trials—for resource alignment and supply chain planning. And the consumer packaged goods industry needs to analyze consumer spending and purchasing patterns to optimize inventory levels.
AI, IoT, SCADA, and digital solutions have been integrated into S&OP processes on a much more limited scale. Their application in the S&OP process is at a relatively nascent stage, with proof-of-concepts now established for S&OP support in more accurate reporting, drill-down analysis, and performance diagnostics. I anticipate the adoption rates to shift very quickly, with the consumer packaged goods and retail industries leading the way. For example, these technologies will drive the real-time reconciliation of sales and inventory with near-term forecasts and order projections and provide unlimited product and location hierarchy support.
Organizations can expect the adoption rates to escalate very quickly and quickly shift the best-in-practice benchmarks for S&OP process outputs. Learn more about APQC's S&OP research at Leveraging Technology in Sales & Operations Planning (Collection).
What technological systems and resources do you think have the most potential to advance the S&OP process? Please tell us what you're thinking and where you see developments heading, either by commenting below or via Twitter (@MB_APQC).