How Leading Organizations Make Change Last

I can barely get my kids to pick up after themselves, turn off lights after they leave the room, or really make their beds. By really making their beds, pulling up the top cover while the sheets are still balled up at the foot of the bed is a huge win.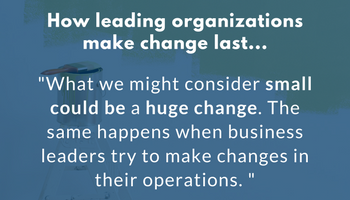 All I am asking them to do is make a small change, right? Well, what we as parents might consider small is a huge change to their routine. I think the same happens when business leaders try to make small (or transitional changes) or big (transformational changes) in their business operations.
A couple of years back, APQC did a study focusing on what leading organizations are doing to make transformational change stick within their organizations. We called it: Transformational Change—Making it Last. We focused on transformation rather than transition. It is simpler to transition from one system to another—to include a new step in a process or to a new organizational chart. These are the mechanical steps necessary, but transition may miss the critically important aspects of how people think and behave. Transformation, on the other hand, adds those dimensions to the change. We felt that many of the failed change initiatives were due to following a checklist approach to change management rather than understanding why the organization functions as it currently does and then designing and supporting changes that shift the basic thinking and flow of effort.
Many of the practices we learned from our leading organizations still apply today.
Leading organizations are better at:
Overcoming barriers to change
Ensuring executives are accountable for the change
Leveraging top-down communication
Adopting more than one method to help drive the change
Executing change with a centralized team, while implementing change with a with decentralized team
I will be speaking on this topic at the 2017 BBC Conference in Orlando during the first week of November. An overview of my presentation can be found here. If you do attend, please come up and say hi. I look forward to the opportunity to meet with you.
Tweet