How the Internet of Things and Big Data Impact the Supply Chain

Big data and Internet of Things (IoT) are changing how organizations are operating their supply chains. Organizations are learning new ways to collect, share, and use data to understand their customers and make better strategic business decisions.
Eighty-six percent of respondents rate data and analytics as at least a moderate priority for their organizations' 2016 supply chain management agenda, according to the preliminary results of a recent APQC survey on organizations' supply chain management outlook. Twenty-five percent of organizations view the use of internet of things to help streamline the supply chain as a priority, more than 40 percent said it is a priority to their organization in the next 3 years.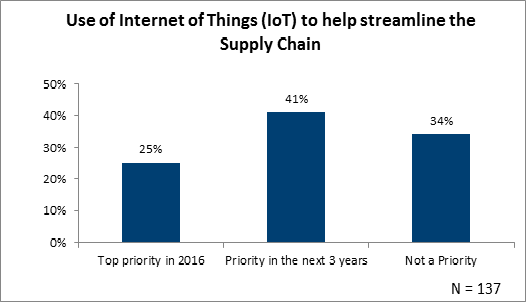 Over the past few months, I have been hearing the importance of learning more about big data and Internet of Things from executives and leaders in organizations from a variety of industries. I am very excited to be looking further at the research around what organizations are doing in this area and providing more information on the topic. I will be speaking on a panel on "Supply Chain 2020: The evolution of Big Data and IoT" at TCU's 2016 conference on the Impact of IoT and Big Data on Supply Chain Innovation.
Join APQC and other supply chain professionals at TCU's annual conference to:
Learn how the use of big data is innovating supply chains
Generate actionable ideas for post-conference initiatives in breakout sessions on Demand
Planning, Purchasing and Supply, Inventory Assets, and Logistics
Discover big data tools and future of ERP and supply chain tools
Connect with TCU graduate and undergraduate supply chain students for hiring and internships
Date: Tuesday, April 19 and Wednesday, April 20, 2016
Location: Brown-Lupton University Union, TCU Campus, Fort Worth, TX
To learn more and to RSVP for this conference, visit www.neeley.tcu.edu/innovation .
See more from APQC on Big Data and Analytics:
Stay up to date with our upcoming supply chain management and product development research, webinars, and more by visiting our expertise page.
Follow me on Twitter: @AJStroud_APQC
Tweet