How Does Your KM Program Stack Up Against the Competition?

Competitiveness is ingrained in human nature. We like feedback on our own performance, but we also like to peek over the fence to see what others are doing—and if they're doing it better than we are. The same is true in knowledge management. If you're involved in a KM program, you're probably curious how your results compare to others, especially organizations that look like yours or have similar knowledge-related goals.
Of course, knowledge management benchmarking is about more than self-validation or voyeurism. APQC has solid proof that KM programs that benchmark and assess themselves are better able to:
align what they are doing in KM to the enterprise mission and priorities,
identify and address barriers to knowledge sharing and use,
enhance KM capabilities across business units and disciplines, and
put together a solid business case to expand KM beyond its initial scope.
Benchmarking helps you determine whether you have the right resources in place to support your organization's knowledge-sharing and collaboration needs. It also forces you take a hard look at how you're distributing those resources to make the best use of what you have. If similar organizations are achieving better outputs with similar inputs, for example, then that's a red flag to revisit your KM strategy, program structure, and engagement plan.
There are many options for measuring your KM program, but APQC's KM Program Benchmarks and Metrics Survey is a great way to get started. This 35-question diagnostic evaluates your KM program from numerous dimensions, including:
your KM leadership and reporting structure,
the resources dedicated to KM and what you're spending annually,
the approaches you use to enable the flow of knowledge,
how you measure success, and
the results you're achieving.
For example, the survey asks about the staff supporting your organization's KM effort. Then when APQC sends back your personalized results, you can see how well your program is staffed in comparison to the hundreds of other KM programs that have already participated. Based on the current data set, the median KM program has one KM full-time equivalent, or FTE (i.e., 40 hours/week of manpower devoted to KM), for every 300 employees supported by the KM program, or for every $100 million in revenue or budget. Your personalized report will show your percentile in comparison to the whole data set as well as more specific benchmarks for your industry, region, and revenue range.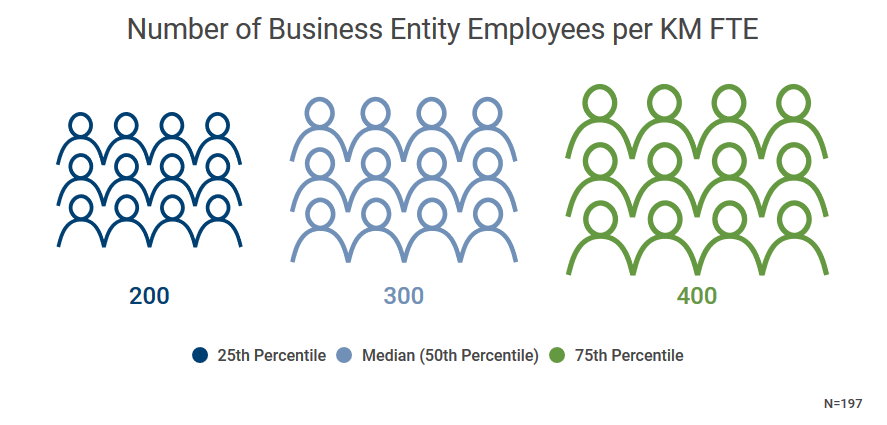 The report will also offer insight on the makeup of your KM team. For example, the most common roles on KM core teams are leaders (present in 68 percent of surveyed programs) and specialists (74 percent), but a majority also include IT analysts (55 percent) and roles responsible for KM communications (55 percent). Many KM programs also rely on part-time or volunteer KM roles out in the business, including:
subject matter experts who answer questions and create/review knowledge (60 percent),
sponsors who guide the KM strategy (54 percent), and
individuals who identify opportunities to apply KM (54 percent).
And finally, the research offers insight into the drivers of KM success. Continuing the example of KM staff, our analysis shows no direct relationship between the size of an organization's KM core team and either the rate of participation in its KM approaches or the likelihood that leaders will see KM as effective in fulfilling its purpose. However, success is dependent on the presence of certain volunteer or part-time roles embedded in the business Two roles in particular seem to be essential: one dedicated to identifying business opportunities to apply KM, and a second focused on KM training and awareness. KM programs with these scout and trainer roles in place have significantly higher participation rates and also are more likely to be seen as effective by senior leaders.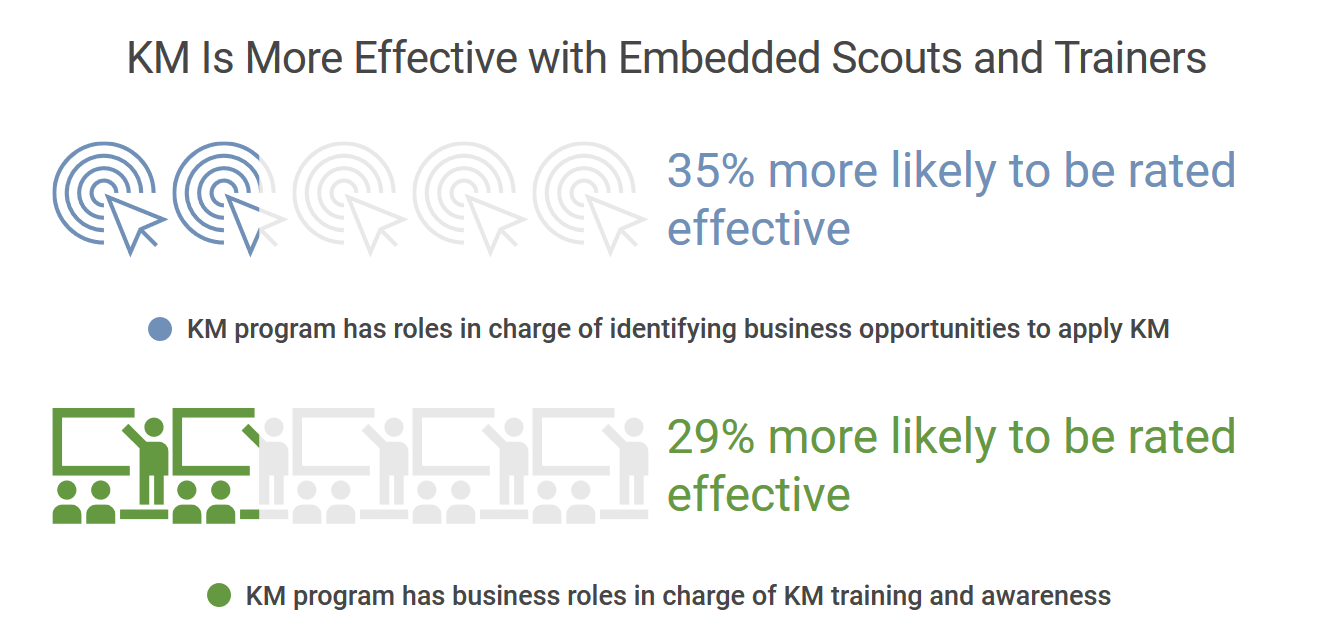 Whether your KM effort is longstanding or just getting off the ground, we strongly recommend benchmarking through the KM Program Benchmarks and Metrics Survey to understand your strengths, weaknesses, and opportunities for improvement. For a limited time we're making the survey available to any KM program, regardless of APQC membership status, and there is no cost to participate. In addition, APQC members can access results of this research—including KPIs, benchmarks, and best practices—in the KM Program Benchmarks and Metrics collection.
Tweet