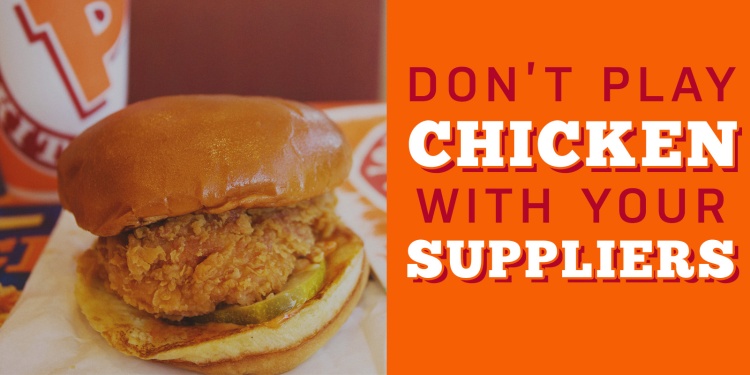 It all started—as so many things do these days—with a tweet. In August of 2019, Popeyes' Louisiana Kitchen was generating a lot of social media buzz in response to its new fried chicken sandwich. The chicken chain's biggest competitor, Chick-fil-A, was itching for a fight. Chick-fil-A's online provocation and Popeyes' subsequent retort—shared over 85,000 times and garnering over 320,000 'likes'—were the first shots fired in a social media frenzy that has since been dubbed the "Chicken Wars of 2019," a conflict which grew to include additional belligerents like Wendy's, KFC, and McDonald's.
Popeyes initially dominated the battlefield, as the new sandwich pushed foot traffic above the summer baseline average by 67.6 percent the day after its release and 103.3 percent two days later. Sizeable traffic jams spouted from Popeyes' drive-thru lines, and employees reported working 11 hour shifts in grueling conditions simply to meet demand. Then came a development that surely felt heaven-sent for Popeyes' competitors: Despite forecasting aggressively for demand, Popeyes sold through supply that was expected to last through the end of September in two weeks. Bereft of its secret weapon, Popeyes was forced to cede ground to its competitors by the end of August.
The viral social media spat between Popeyes and Chick-fil-A—which quickly led to critical supply shortages for Popeyes—is a cautionary tale about the havoc that social media can wreak on supply chains. To avoid squandering opportunities afforded by unprecedented demand, supply chains need to run like well-oiled machines with collaborative sales and operations planning (S&OP), a finger on the pulse of social media sentiment, best-practice scenario planning, and rock-solid supplier relationship management. The following presents four important lessons from the Chicken Sandwich Wars of 2019.
1. Collaborative S&OP is a Must
Collaborative, cross-functional S&OP is not optional, but a necessity in a business environment where social media can upend supply chains in a matter of hours or even minutes. Collective intelligence from stakeholders in marketing, sales, procurement, finance, and other functional areas of the business helps ensure that decision makers have access to timely information about what might lie ahead. Recent advances in technology like predictive analytics and cognitive computing have empowered top companies to build forward-looking, dynamic planning systems that are nimble and can respond quickly to spikes in demand, or better yet, anticipate that they might be coming. Popeyes' now-viral retort to Chick-fil-A reportedly took only 15 minutes to write, but recovering from its complete lack of product took much longer.
2. Demand Sensing Can Help Fine-tune Forecasting
Although it is one input among others, social media sentiment has to be part of a company's planning calculus—especially in consumer-facing industries. Demand sensing tools, now widely available on the market, can help organizations like Popeyes better track and account for spikes in demand as the result of viral social media. Using artificial intelligence and machine learning, these tools can mine massive amounts of online data to determine social sentiment and model its impact on demand. Used alongside statistical forecasts, POS data, and other inputs, demand sensing can help fine-tune planning and forecasting by tracking customer sentiment in real time as it unfolds. This is not the first time that viral social media has sparked supply chain chaos—The need to account for social media's impact on demand will likely continue to grow in importance for organizations like Popeyes.
3. Scenario Planning Helps Organizations Prepare for the Worst—And the Best
Popeyes certainly could not have anticipated that it would, in the words of its CEO, "break the internet" by instigating an all-out chicken war with its competitors. It is in every company's best interest to imagine a scenario like this and plan for what they might do should it occur. Scenario planning is not just about hedging against risk—it also means being poised to move quickly when opportunity presents itself. Regardless of how unlikely the scenario, organizations should think through situations like the one Popeyes faced and have a plan in place for marshaling the resources and actions plans needed to respond. The more comprehensive an organization's collection of action plans, the more versatile it can be in response to the unexpected: Even if an organization confronts an entirely new scenario, chances are it may already have the elements of an effective action response among the plans it has previously developed.
4. Supplier Relationship Management Can Make All the Difference
Business battles and chicken wars are won or lost on the strength of a company's supplier relationships. While Popeyes' critical shortage seems hard to square with an oversupply of chicken on the market, the components of its chicken sandwich—which include a special type of flour and barrel-cured pickles—are carefully engineered and take time to source from suppliers. To drive competitive advantage, smart companies work collaboratively with suppliers to develop more responsive and nimble replenishment systems, and more fundamentally, to ensure that suppliers are keyed in to trends that have the potential to upend the supply chain. In their book Vested: How P&G, McDonald's, and Microsoft are Redefining Winning in Business Relationships, for example, authors Kate Vitasek and Karl Manrodt explain that the strong interpersonal relationships that McDonald's has with its suppliers helped it to mitigate critical supply shortages during avian flu and salmonella outbreaks that virtually decimated the supply of chicken and tomatoes for everyone else.
Prepare for Social Media Disruption
More than a month after completely selling out of its product, Popeyes announced that its famed sandwich was finally back. Just a day after its return, however, angry customers began alerting Twitter that it was sold out once again in some places, suggesting an uneven recovery. While it remains to be seen whether Popeyes will win the chicken war in 2020 and usurp its top competitor, one thing we know for sure is that viral social media events like these are here to stay—It is in every company's best interest to be ready for them or risk losing key battles with competitors.