One top priority for big company CFOs this year will be to cut the costs of financial management processes. Wait! Haven't we seen this movie already? These costs have already been slashed over the past decade. Finance managers: prepare yourselves for "The Hangover Part III."
Recent APQC research confirms that a growing number of CFOs and their counterparts in operations are considering plans for ERP consolidation. This means standardizing processes, data, and technology, as well as reducing the number of ERP systems and ERP instances across the enterprise. This, in turn, can open the door to significant efficiency gains in financial processes such as payables processing, general accounting, and financial reporting.
APQC has learned that senior managers feel their investments in ERP—and ongoing investments to get the best possible value from such systems—are fraught with challenge. In many cases, the issue is due largely to the proliferation of multiple, individualized platforms. For a variety of reasons—especially expansion via acquisitions—most enterprises are straining under the weight of multiple ERP systems and inconsistent process and data models from one business unit to the next.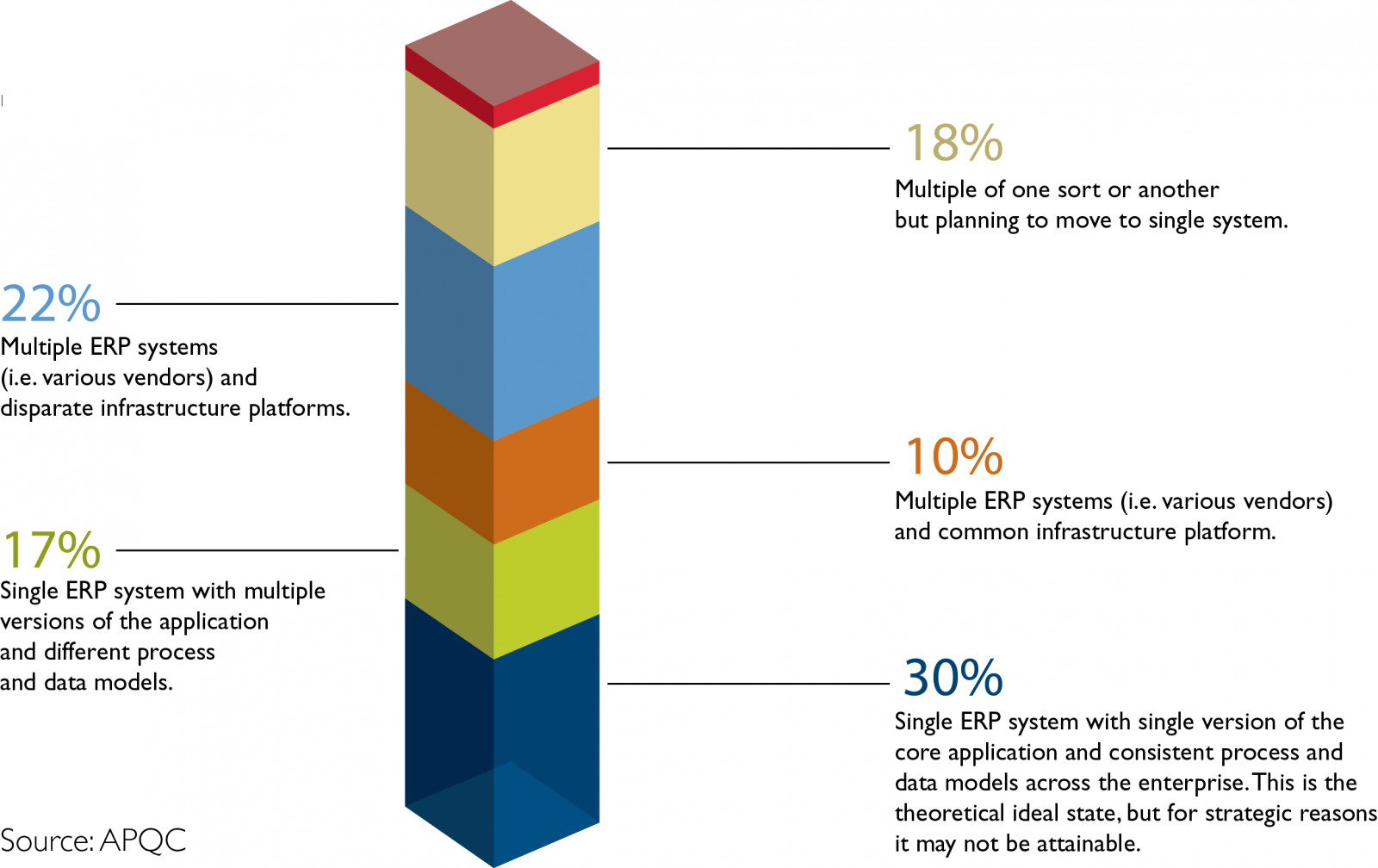 For its study and resultant white paper, ERP Consolidation: The Rationale Is Growing Stronger, APQC launched a survey asking people to describe the burden created by such complexity. The survey responses point to a clear value proposition—in terms of business value, not just IT department efficiency—to be gained by embarking on a journey toward increased enterprise harmonization enabled through ERP consolidation.
Survey takers ranked the biggest problems created by their current ERP landscapes:
60 percent said a convoluted ERP environment hurts the business by making it hard to access high-quality data fast enough to effectively support decision making.
53 percent said they suffer from poor cross-enterprise collaboration and coordination.
52 percent complained about sub-optimized processes that in turn lead to lower-than-desired operational performance in terms of costs, cycle times, resource waste, and misalignment of human capital.
Clearly, most organizations have been either "kicking the can down the road" or failing in efforts to get more strategic value from their ERP investments. That's disconcerting given the increased competitive pressures in many sectors today. A well-configured and dynamic ERP environment—accompanied by a mature approach to business process management—can surely make a difference in an organization's ability to compete by enabling faster time-to-market and faster time-to-value, among other things.