Changes at Toys R Us: Consider the Impact Across the Supply Chain

As consumers of the toys and games carried at Toys R Us, many people I know are eager to take advantage of closeout sales as the largest independent toy seller in the United States prepares for liquidation. However, while it can be good news in the short-term for some consumers' wallets and perhaps for competitors Wal-Mart and Target in the longer term, the impact of this month's changes on the Toys R Us supply chain will be far-reaching.
Let's consider the upcoming changes for various players in the supply chain.
Suppliers
After 70 years of Toys R Us as an outlet, toy makers and other suppliers are losing a key channel to get to market. For larger suppliers like Mattel and Hasbro, estimates are that the loss of Toys R Us will impact about 10 percent of their annual volume; however, industry experts expect them to be able to bounce back fairly quickly via other retail and online stores. But for smaller suppliers, the future is much less certain, and some may not survive the loss of this key sales outlet.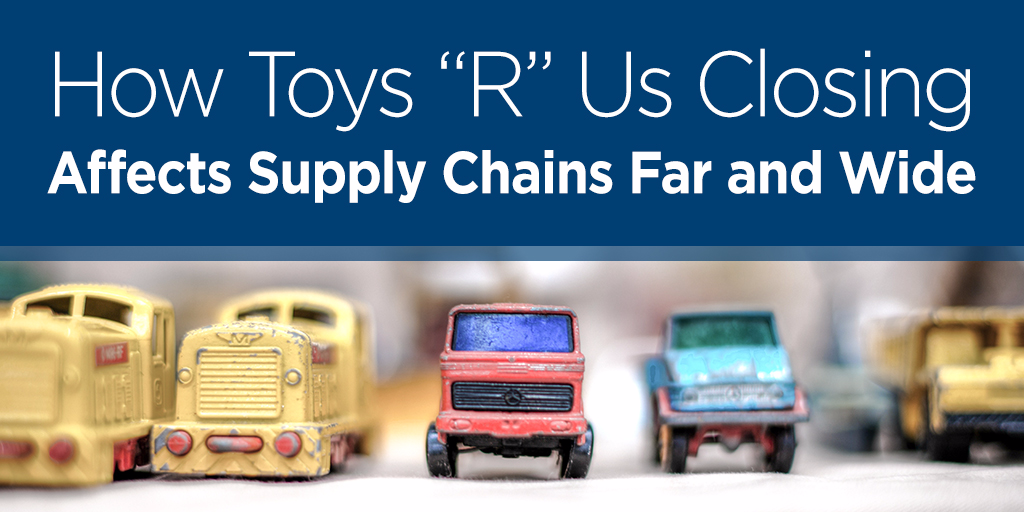 Also this month, Claire's, a chain of jewelry and ear-piercing stores for teens and tweens, has filed for chapter 11 bankruptcy. And while Claire's is predicting a hopefully happier outcome than Toys R Us, in September 2014, the two stores announced that more than 100 Claire's branded shops would open in Toys R Us stores globally. With Toys R Us closing its locations in the U.S., Claire's stores within the stores will be impacted.
In response to the Toys R Us news, the CEO of MGA Entertainment, Inc., which makes Bratz dolls and credits Toys R Us with 18 to 19 percent of his company's sales, has launched a $1 billion crowdfunding campaign to try to raise funds to #SaveToysRUs and up to 400 stores. After only four days, the campaign has raised more than $200 million.
Consumers
Emotions are running high in some former Toys R Us customers who have "eulogized Toys R Us as a temple to playtime." For many, it's seen as more than just a retail outlet; it was a place where memories were made. In fact, #SaveToysRUs has become a trend on social media.
Employees
With Toys R Us closing its stores, 30,000 employees will be left without a job, and there will likely be no severance due to the bankruptcy restrictions. The disruption for families and communities will likely be felt in ways beyond the loss of income.
Real Estate
The changes will likely result in 700 stores closing in many types of shopping properties—from standalone locations to community strip centers to large regional malls. And in the current economic climate, landlords may face significant challenges in finding replacement tenants.
Competitors
At first glance, Toys R Us looks to be in a similar situation to many other struggling retailers, but an important piece of its supply chain may have contributed to its challenges relative to its key competitors. According to the Wall Street Journal, Toys R Us CEO reportedly cited the firm's "inability to provide expedited shipping options, and our lack of a subscription-based delivery service" as contributing to its problems. Compared to competitors whose logistics functions are flexible and streamlined, Toys R Us' supply chain hadn't kept pace technologically. And those competitors are now poised to benefit from this liquidation.
As the saga of Toys R Us continues to unfold and play out in real time, there have been and will continue to be ripple effects up and down the supply chain.
I'd like to hear your thoughts. You can comment below, email me at mbrown@apqc.org, find me on Twitter at @MB_APQC, or connect on LinkedIn at https://www.linkedin.com/in/marisabrown1/.
Tweet