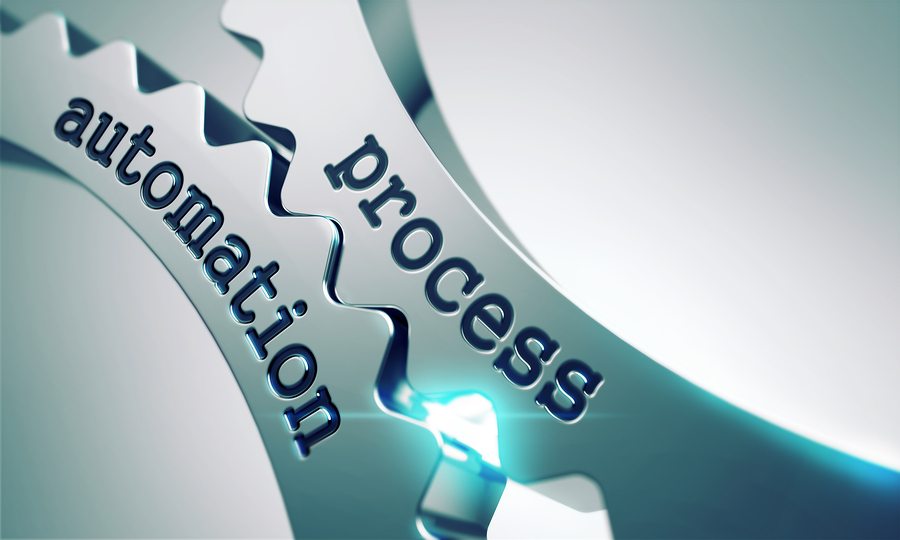 Invoicing and accounts receivable (AR) are core finance transactional processes that lie at the heart of an organization's liquidity and working capital management. These two processes are flip sides of the same coin, with invoicing encompassing the activities involved in billing customers for goods and services received, and AR including the activities for processing and applying customer remittances and associated policies and accounting. Inefficient processes, errors, re-work, and delays in these processes mean postponements in the critical inflow of cash to the business, which in turn could cause a cash crunch in the business's own payments to its suppliers. Furthermore, although these processes are considered "back office," support processes, they intersect with the external customer, and poor invoicing and receivables processes contribute to a poor customer experience with the organization.
For these reasons, the process owners for invoicing and AR are continuously challenged to operate as efficiently and effectively as possible, with high levels of quality and stakeholder satisfaction. APQC has conducted an analysis of its Open Standards Benchmarking® dataset to better understand the drivers of top  performance in invoicing and AR. In addition to strategy/structure, governance, processes, people, and measurement practices and drivers, the Open Standards Benchmarking® surveys examine technology drivers of process performance. The Credit and Invoicing and Accounts Receivable surveys examine several specific aspects of technology, including:
the underlying system used for invoicing and receivables processing;

automated workflows (such as the auto-generation of invoices based on key event triggers);

automatic entry and matching into the accounting systems (such as the automatic entry of invoices into the general ledger, and automatic matching of receipts into the AR sub-ledger);

e-invoice generation and e-receipt processing; and

the use of e-invoicing networks.
An analysis of APQC's data found that, across the board, survey respondents leveraging these practices report better select KPI results than those who have more manual invoicing and AR processes. For example, the Customer Credit and Invoicing survey asks respondents the percentage of invoice line items invoiced using electronic or automatic methods, such as Internet, Wireless Application Protocol (WAP), Electronic Data Interchange (EDI), direct upload, or interface. According to the survey, top performers invoice the majority of their invoice line items (80 percent) electronically or automatically, compared to bottom performers, who invoice only 20 percent of total invoice line items electronically or automatically.
An analysis of the data shows that organizations that invoice a higher percentage of total invoices electronically or automatically report significantly better efficiencies (in terms of invoicing FTEs per $1 billion of revenue) and significantly lower Days Sales Outstanding (DSO; Figure 1).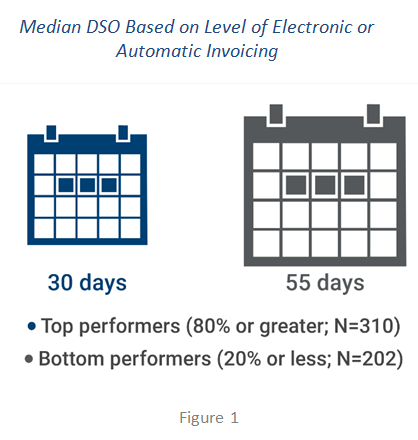 The Accounts Receivable survey asked the corollary question for receivables−percentage received electronically, such as internet or credit/procurement card. Top performers receive the vast majority (94 percent) of customer receipts electronically, compared to only three-fourths received electronically by bottom performers. An analysis of the data shows that organizations which receive a high percentage of receipts electronically reported significantly lower cost (Figure 2) and higher efficiency (in terms of AR FTEs per $1 billion) than organizations which receive a lower percentage of customer receipts electronically.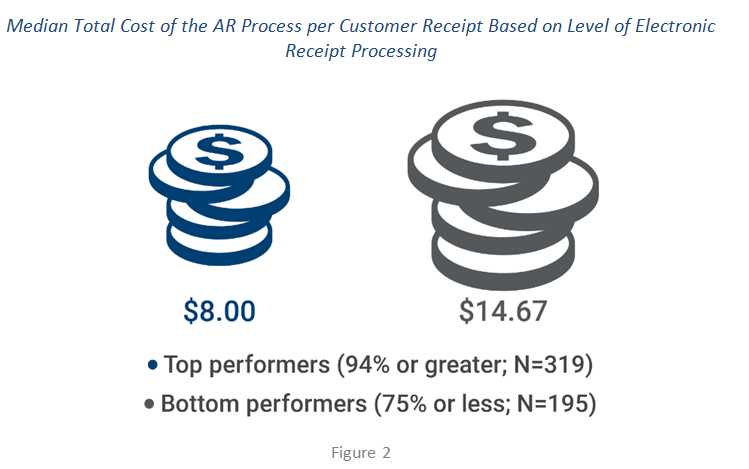 Readers seeking to learn more about how to improve their accounts receivable and invoicing processes through automation and other performance drivers should visit the following recently-released research on these topics from APQC:  
Invoicing and Accounts Receivable Blueprint (Executive Summary)
Key Drivers of Invoicing and AR Performance (Infographic)
The Benefits of Automating Your Invoicing and AR Processes (Infographic)
The Benefits of Automating Your Invoicing Process (White Paper)