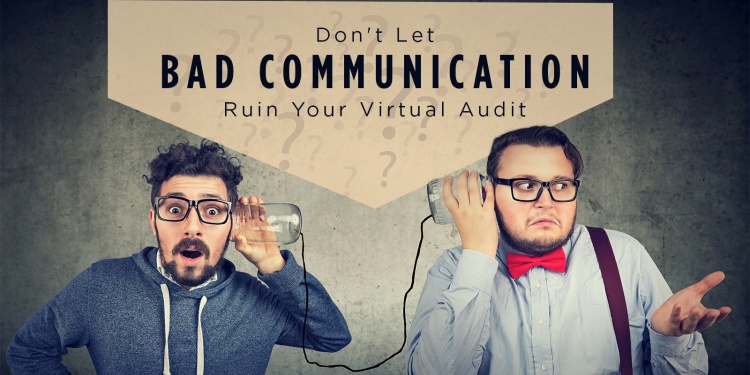 While the virtual audit (also known as a remote audit) has been around for a few years, the circumstances surrounding the global pandemic in 2020 certainly accelerated the performance of these types audits exponentially. These audits can bring many benefits to an organization (auditee) and the auditing firm, but there will be in challenges when undergoing a virtual audit. In a recent survey conducted by APQC, 46% of respondents stated that they were "somewhat satisfied" or "dissatisfied" with the virtual audit process. My takeaway from this survey response, and from my own personal experience with virtual audits, is that there is significant room for improvement on both the auditee's and auditor's side when completing the virtual audit. If you are looking to ensure that your audit is a success, try implementing these five tips:
Plan out the Details
Like the saying, "Measure twice, and cut once", you and your auditors should commit yourselves to a thorough planning meeting – or meetings, if necessary – ahead of the audit to work out the details, especially related to the fieldwork phase. During these meetings, take the time to ensure: the scope of the audit is understood, which managers of the auditee's team will need to make themselves available for meeting with the auditors, the preferred application for teleconference and video communications, and how supporting documents will be shared with the auditor and secured.
 
Set the Communication Schedule
While I love not seeing the audit team camped out in a conference room for two to four weeks due to a remote audit, I must acknowledge there are disadvantages to not having them onsite. Because of the face-to-face interaction that is lost in a virtual audit between the client and the audit team, it can be easy to take on the mindset of "out of sight…out of mind". Be sure that you and your audit manager establish scheduled standing meetings on a cadence that works for you and your respective teams. At APQC, we had standing Tuesday and Friday meetings with our auditors throughout the weeks of fieldwork. Our Tuesday meetings allowed to talk through the pressing items needed for the current week, while our Friday meetings gave us a chance to recap what occurred during the week, while conducting a planning session for the upcoming week. That worked for our situation, but you must identify what schedule works best for your team's needs.
 
Secure Your Shared Files
The most pressing challenge of a remote audit is determining how to safely share internal supporting documents with the auditor. While most audit firms will have their own cloud portal for receiving and sending documents, it is incumbent upon the auditee to vet their solution and ensure that it meets your requirements. After all, it's your documents that you are protecting. If your organization requires 2-factor or multi-factor authentication on all cloud-based applications, yet the auditor's solution doesn't, it is well within your right as the auditee to require a different solution. 
 
Keep It Nice and Neat
After settling on the document sharing tool, the audit firm and the auditee should also establish a taxonomy or structure of how shared documents will be classified and named. This will allow all parties to reference a document number, or some sort of identifier, for all shared documents when questions arise related to shared supporting documents.
 
Show Your Face
When conducting calls with your auditor or client, be sure to adopt proper video conferencing etiquette and keep your camera on. During a virtual audit, so much of the face-to-face interaction is lost that comes with a traditional audit. It is incumbent upon all parties to use conference calls as way of connecting and developing relationships. Take advantage of the technology of this era and BE SEEN and BE PRESENT.
If you are a seasoned veteran in virtual audits, or you are about to start your first or second audit in the remote format, I hope these tips can help you build a more successful virtual audit.