5 Things Best-in-class Finance Organizations Do That You Need to Borrow

As many of the readers may be aware, APQC was foundational in the establishment of the Malcom Baldrige National Quality Award (MBNQA), and helped to develop the concept, criteria, funds, and ultimately secure Congressional approval for this award in 1985. Since that award's establishment, more than 100 companies have won this prestigious award.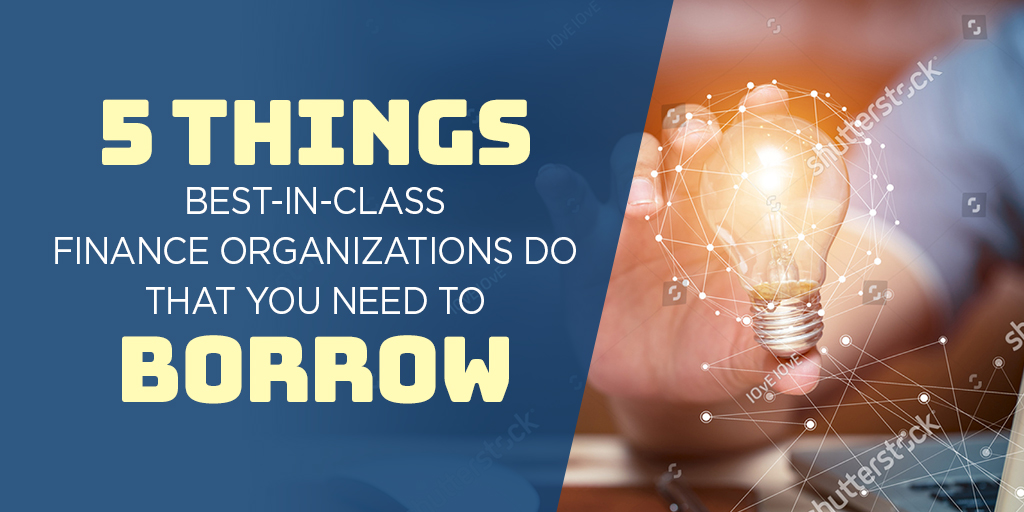 Those of you who are familiar with the MBNQA probably also know that the winners have implemented successful practices across a holistic framework, stemming from their core values, through their leadership practices, to their operational practices, and all the way through to measurement practices.
APQC is currently gathering case study data on how organizations build a best-in-class finance function. We take a similarly holistic approach to gathering data, looking at how best-in-class finance functions have structured themselves, to what people development practices they have put in place, what their operational processes are, what technology enablers they are leveraging, and finally what the results have been in terms of measurement and impact. Here are five characteristics of a best-in-class finance function from a holistic view that APQC has noticed from its most recent primary and secondary research on this topic:
Structure – Best-in-class finance functions structure themselves so that redundancy and overlap in transactional processes is minimized and efficiency is maximized. For example, recently profiled case study organization Maersk Line has consolidated all finance transaction processing for global finance processes, such as procure-to-pay and order-to-cash, to the global shared service center operating out of India, China, and the Philippines. This allows a division of labor for the shared services employees to focus on the intricacies of working with customers and vendors, and frees the frontline finance staff to focus on supporting the business and helping the business make better decisions.

People – Best in class finance functions develop their finance talent. Maersk develops its finance talent at both the leadership and operational levels, for example, requesting current and future CFOs to spend quality time in the transactional finance centers as part of their career paths, and including rotations for front line finance business partners as well into the service centers. This job rotational experience provides employees with knowledge and experience on how to do processes (order-to-cash or procure-to-pay), understand barriers and roadblocks that might occur, as well as learn country-specific nuances of finance in different countries.

Process – Best-in-class finance functions focus on continuous improvement in finance. APQC also recently profiled Cintas Corporation, who trained all its accounting and finance partners in Six Sigma over several years. Accounting and finance staff are encouraged to attend Green Belt training if they are interested in more process improvement work. Each department also relies on a Black Belt to conduct specific process improvement projects. Cintas also uses Kaizen action teams, which were started in 2004 as a way to conduct small process improvement projects. Likewise, Maersk Line leverages a SCQ (Situation, Complication, Question) framework by Barbara Minto to address key challenges and issues in finance.

Technology – Best-in-class finance functions explore technology enablers, like AI, cognitive, and RPA, in order free up finance's time for more value-added activities. In fact, according to recent research from APQC, finance tops the list in terms of support functions undergoing process automation.

Measurement– Best-in-class finance functions measure both process and impact measures of their finance functions, in recognition that finance exists to support the business. For example, Maersk Line participates in regular external benchmarks to understand how it fares in terms of the standard process measures for the finance function (cost, productivity, efficiency, etc.), but in addition recognizes that first and foremost its finance business partners exist to serve the business, and therefore measures the impact of each case (in terms of impact and/or customer satisfaction) that its finance business partners solve.
Ultimately, APQC has found that best-in-class organizations take a robust, holistic approach to improving their finance functions, an approach that is balanced and focused not just on one area (like technology) to the detriment of another area (like people or process).
Does your organization have a success story to share within finance and would be interested in being profiled by APQC? If so, we are always looking to learn from successful examples. Feel free to connect with me via Linked in or email.
Tweet