KM Capability Assessment Tool
Research shows that organizations with higher knowledge management (KM) maturity have two times better financial performance than organizations with lower KM maturity.*
KM leaders want to know how their approaches, processes, and tools are performing and where they should invest to achieve targeted improvement. APQC's Knowledge Management Capability Assessment Tool (KM CAT) offers a rigorous way to measure and evaluate your organization's KM efforts. The assessment helps you establish a comprehensive picture of your KM journey and assess current opportunities, choices, and levels of competency in order to move from immature, inconsistent activities to disciplined ones that support your organization's business imperatives.
---
Getting started with the assessment is easy.
Members can begin by attending one of our quarterly scheduled orientations. Register for one of our future sessions. If your organization is not an APQC member, contact us to learn how to participate.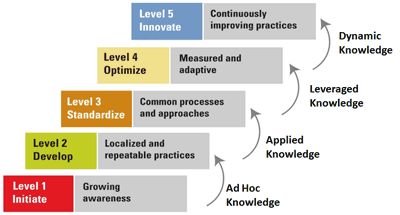 The KM CAT is a diagnostic tool based on APQC's Levels of Knowledge Management MaturitySM. The KM CAT helps you identify the maturity level that best characterizes your organization's KM program and provides suggestions on how to advance to the next level.
---
As part of APQC's KM Capability Assessment, your organization will receive:
virtual training on how to use the tool,
access to the online data collection tool,
a strategic decision-making framework for investing in KM,
best practices to help you identify and understand indicators of success,
assistance from APQC's experts to validate your data, and
a detailed benchmarking report with comparative peer analysis.
The KM Capability Assessment Tool is included as a member benefit with APQC's knowledge management and all-inclusive memberships.* Nonmembers may participate in the assessment for a fee. Contact us to make sure your organization is leveraging knowledge for competitive advantage.
---
Upcoming Orientation Sessions
---
*Yokell, M. R. (2010). A Quantitative Correlation Study of the Relationship Between Knowledge Management Maturity and Firm Performance presented at APQC's 2011 KM conference.
*PLEASE NOTE: You may only attend one session in a calendar year according to your membership terms so please select a date when you are most likely to attend both the orientation and validation sessions. In order to submit your final data for report generation, you must attend a validation session and submit the data by the due date.