Logistics and Warehousing Performance Assessment
---
There may be a fee associated with this assessment, learn more.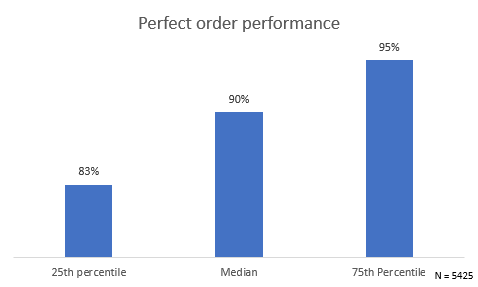 Support your efforts to provide superior logistics and transportation services while holding the line on costs by completing the Logistics Open Standards Benchmarking Assessment. Discover new opportunities for:
defining a logistics strategy,
planning inbound material flow,
overseeing warehousing,
managing outbound transportation, and
managing returns and reverse logistics.
Logistics is the implementation and organization of operations being conducted by an organization at all steps in the supply process. Logistics also covers the management flow either between certain points of interest in order to meet the requirements set by your clients or corporation.
Key logistics measures included in the participant report:
Inventory accuracy
Finished goods inventory turns
Pick-to-ship cycle time in hours for customer orders
Number of FTEs that perform the process group "manage logistics and warehousing" per $1 billion revenue
All submissions to APQC's benchmarking database, both Open Standards Benchmarking and Rapid Performance Assessments, must be collected using APQC's easy-to-use Microsoft Excel data collection instruments. Please download a fresh copy of the assessment file by clicking the "Download Survey to Start Assessment" button.
Each benchmarking assessment offers an Excel-based data collection tool consisting of the survey itself, the measures associated with the survey, the glossary terms needed to understand the survey, and a copy of the Process Classification Framework (PCF) relevant to the data collection instrument. The consolidated data collection tool is intended to simplify the collection of benchmarking data within your organization.
How it works:
ASSESSMENT SUBMISSION GUIDE - PROFESSIONAL SERVICES FIRMS
Once you have completed the data collection instrument, simply upload the file using APQC's secure file upload tool. Visit this URL to upload your file: https://zurl.co/8Rg92. If you are unable to connect to that web site, please contact the helpdesk for more information by sending an email to osb@apqc.org. Please do not send privileged, confidential, or non-public data to APQC via email. Please contact the helpdesk on osb@apqc.org if you have any further questions.
APQC analysts will immediately begin validation of your submission.
---