Transformational Change - Making It Last

Do you have plans to implement large-scale, strategic changes? Are you prepared for the impact of these changes to your workforce?
Do your change initiatives achieve performance goals?
Are leaders at all levels of the organization engaged in the change?
Have you allowed for flexibility throughout the change process?
How do you establish change expectations and evaluate compliance to the individual?
Are you able to sustain change for continuous improvement?
APQC's 2013 Business Excellence Best Practices Study explored how to engage diverse management styles to achieve consensus for cross-functional change and help employees embrace the initiatives. Register for the upcoming webinar to learn more about the study's findings and be on the lookout for the report release.
Why this topic?
An organization's strategy and improvement activities, while appropriately focused on products, technologies, or processes, always impact the behaviors and attitudes of the workforce. Often, we focus on change management techniques to support these activities, such as providing a checklist for change, communication and deployment plans, training, and rewards. But to truly implement lasting change, we must first understand how work gets done in the flow of daily activities and then design activities to create an environment that encourages adoption and evaluates compliance. Effective change initiatives also have the ability to make adjustments if things don't occur as planned.
Want to learn more?
APQC and Grant Thornton will be hosting a complimentary webinar on Tuesday, May 20, 2014 on the transformational change best practices discovered from this research study. Join us to learn more about the findings and ask the subject matter experts your questions around transformational change.

---
Research Champion
APQC is pleased to welcome Grant Thornton as the research champion and thought leader for this Best Practices Study. In this role, Grant Thornton's Adam Taicher and Steven Sparks share their expertise and current trends in transformational change.
About Grant Thornton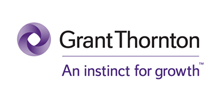 Grant Thornton International Ltd is one of the world's leading organizations of independent assurance, tax and advisory firms. These firms help dynamic organizations unlock their potential for growth by providing meaningful, forward-looking advice. Proactive teams, led by approachable partners in these firms, use insights, experience and instinct to understand complex issues faced by privately owned, publicly listed and public sector clients and help them to find solutions. Over 35,000 people in more than 100 countries are focused on making a difference to clients, colleagues, and the communities in which we live and work.
---