Supplier Category Management
Supplier Category Management
Driving Value Through the Procurement Organization
This study is currently in progress. Please Contact Us or your relationship manager for more information.
Shorter Supplier Lead Times with Category Management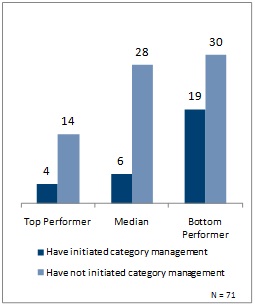 A key component of building collaborative relationships with suppliers is understanding what you're spending and with whom.
Category management takes a holistic view of managing a spend category through its entire lifecycle with the objective of maximizing value rather than simply minimizing cost.
Those who invest in category management can expect to see their supplier lead time decrease significantly.
As you look to your supply base to impact long-term revenue generation, cost control, and risk management, let APQC take the guesswork out of how high-performing organizations use procurement as a competitive differentiator and a strategic business partner.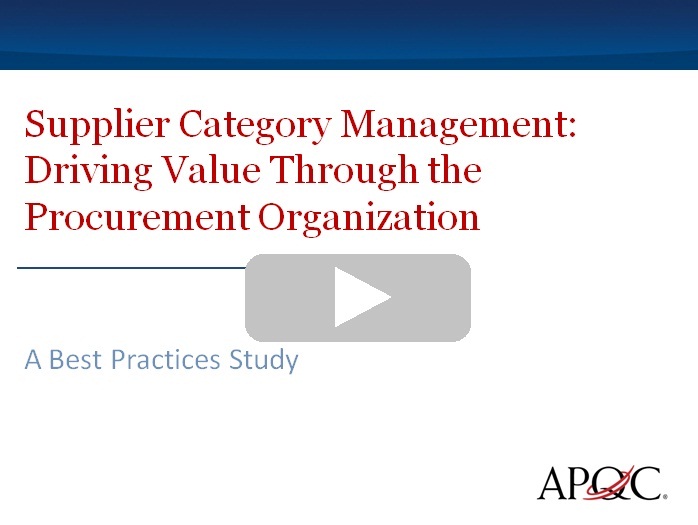 Watch a quick video on the upcoming Supplier Category Management Study.
Erin Williams,
Project Manager, APQC

Benefits of Sponsorship
As a participant in this study, you will be able to attend site visits with leading organizations, share insights, and take away actionable reports and findings—all things you can use right away to improve the performance of your supplier category management program.
Deliverables Include:
A final report including the key findings from the study

Insights and best practices from experts and fellow supply chain practitioners

Slides and summary profiles of the best-practice supplier category management partner organizations

Copies of study interview guides and surveys
Study Details
Study Scope
Strategic Implications—establish a business case for strategic category management; define, structure, and prioritize categories; evaluate risk

Resource Commitment and Allocation—establish governance; allocate internal resources; determine appropriate cross‐functional teams
Category‐specific Processes and Tools—understand market characteristics; manage existing supply base; evaluate potential suppliers by category
Extending Supplier Relationships—identify opportunities to develop mutually beneficial, collaborative relationships with top suppliers to drive innovation
Study Leadership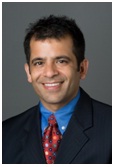 Samir Khushalani, Subject Matter Expert
Samir is a KPMG Advisory Principal based in Houston. He serves as the National Practice Leader for Strategic Sourcing & Procurement. Samir has over 20 years of consulting experience and is responsible for strategy setting, thought leadership, executive client management and engagement delivery aspects for this practice. He has assisted companies conceive, develop and execute comprehensive strategies in the areas of Strategic Sourcing, Category Management, Purchase‐to‐Pay, Contract Management, B2B Marketplaces, Supplier Relationship Management (SRM) and Materials Management. He has authored various thought leadership articles on supply chain and spoken on procurement excellence at various forums.

Research Champion
KPMG LLP, offers audit, tax and advisory services, as the U.S. member firm of KPMG International. KPMG International's member firms have 137,000 professionals, including more than 7,600 partners, in 144 countries. Our advisory practice provides global services to our clients across a full range of critical business needs. KPMG's experienced Strategic Sourcing and Procurement professionals are committed to assisting our clients in driving structural improvements to the procurement function that will help to make procurement a source of value and innovation. Our comprehensive approach to procurement transformation balances enhanced business performance through better spend management and productivity gains with internal controls and risk management.

Research Partner
Founded in 1963, the Council of Supply Chain Management Professionals is the leading worldwide professional association dedicated to education, research, and the advancement of the supply chain management profession. With over 9,000 members, representing business, government, and academia from 63 countries, CSCMP members are the leading practitioners and authorities in the fields of logistics and supply chain management. For information, visit www.cscmp.org.