Rapid Performance Assessment Tool User Guide
Rapid Performance Assessment Tool User's Guide
The basics
Rapid Performance Assessment Tool
The Rapid Performance Assessment Tool is a completely automated, online tool to help you pinpoint areas for improvement in specific processes through targeted assessments and validated reports. Simply complete your selected assessment with your organization's data and in about two days, receive a report comparing your process and performance efficiency to other organizations from relevant peer groups.
APQC Open Standards Benchmarking
The comparison data provided in your report leverages the more than 1,200 performance measures stored in APQC's Open Standards Research(OSR) database. These benchmarks span multiple business functions and were compiled based on more than 7,000 global survey submissions.
The Process Classification FrameworkSM
Created in collaboration with expert and practitioner panels in 1992 and updated annually, APQC's Process Classification FrameworkSM (PCF)is a globally recognized business process model that defines activities and processes across 12 enterprise-level operating and management categories.
APQC member offering
The Rapid Performance Assessment Tool is an APQC service included with the purchase of any APQC membership. Organizations that are not members of APQC are invited to complete the assessments at a fee or be provided access to all assessments in specific areas with the purchase of a membership. Please visit the APQC membership section for more information about how to become a member.
What you will need
To complete the assessments, you will need information about your business processes, including cost, cycle time, and staffing allocations, as well as organizational information including revenue and size.
Getting started
The Rapid Performance Assessment Tool resides in APQC's Benchmarking Portal. Full access to the portal is granted only to APQC members that have created a personal profile on the APQC Web site. If you are an APQC member and have not created your profile, please access your profile(LINK). If you are not an APQC member, you may access public areas of the portal by registering on the Web site.
Once registered, follow these simple steps to assess your performance:
Visit the APQC Benchmark Portal
Choose Rapid Performance Assessment from the Benchmarking Tools menu on the left
Click "access pre-packaged assessment" to begin the assessment process.

Choose your topic area of interest to view the available assessments in each area. Available assessments are based on your membership type.
Select your assessment based on the information you're seeking (see description below).
Complete the assessment using your organization's performance data.
Receive and review your report.
Complete the next recommended assessment, if applicable.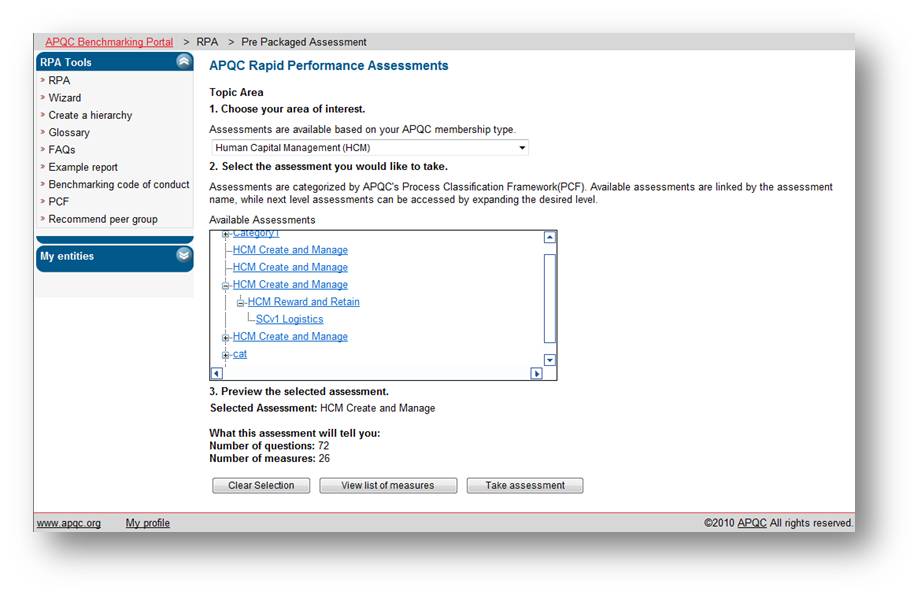 Selecting assessments
Available assessments are organized via APQC's Process Classification Framework (PCF).
Assessment options begin at the highest level, the Category (Finance & Accounting, Human Resources, Supply Chain, etc.), narrow to Process Groups and then to Process as seen in the following example:
Example:
Category: Finance & Accounting
Process Group: Planning and Management Accounting
Select the survey for the area that best describes the level of processes you want to assess and preview a description of your selected assessment that includes what the assessment will tell you, the number of questions asked and the number of measures reported.
Where to go from here
Once you've completed the assessment and received your report, for each measure you will see a "green light" (the data you submitted places your organization among the top performers), a "yellow light" (submitted data falls among median performers) or a "red light" (submitted data falls among bottom performers). Should you receive yellow or red indicators, you may want to see what resources APQC has in those particular areas to determine the cause of the performance gaps and how you can close them.
Whether your indicators were green, yellow, or red, you can receive additional direction by…