Positioning Communities of Practice for Success
Positioning Communities of Practice for Success
In 2000, APQC correctly predicted that communities of practice (CoPs) would become the organizational locus for identifying, sharing, and creating valuable knowledge. Then, in our 2005 and 2009 benchmarking studies, we validated that prediction, identified critical success factors in designing communities, and identified best practices for sustaining communities over time.

APQC invites you to join us for our fourth communities of practice study. We will revisit three best-practice organizations to look at success factors that help cultivate and enhance CoPs across the enterprise. With these organizations, we'll explore the strategies and practices that have stood the test of time and enabled their CoPs to be successful. We'll also ask them about their lessons learned—what didn't work and why not? And what are the enduring and new enablers or critical success factors?
WHY THIS STUDY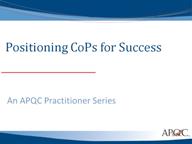 Organizations choosing to leverage communities of practice face design choices that could determine their impact on the business. These choices include how to plan for and launch a successful CoP, how to secure and sustain participation in communities over time, and how to assess the performance and success of the CoP.
Through this study, you can expect to learn key strategies and tactics for successful CoPs, practices for promoting and sustaining successful CoPs, and methods for measuring CoPs.
STUDY DELIVERABLES AND BENEFITS OF SPONSORSHIP
Sponsors of the study will significantly benefit from their participation. At such an economical price point, the benefits go beyond saving time and money. In this study, you will:
learn new ways that CoPs are creating value for the organization and for participants/members,

gather valuable information to enhance existing communities and/or design new communities based on proven practices and real-world experience, and

have the opportunity to involve your CoP support team and CoP leaders in direct learning through the virtual meetings and site visits.
DELIVERABLES
A white paper summarizing the issues and insights uncovered during the study

A checklist of critical success factors and activities for successful communities

Participation in the virtual kickoff meeting, three virtual site visits, and the virtual knowledge transfer session

Insights from APQC experts and fellow practitioners

Slides and summary profiles of the leading practitioners

Copies of any study interview guides
KEY DATES
Kickoff (virtual): August 3, 2010

Site Visits: September 2010

Knowledge Transfer Session (virtual): October 28, 2010