Open Standards Benchmarking Manufacturing
Widespread outsourcing of production activities has put tremendous pressure on manufacturing managers to be cost competitive while offering unique customer value. This has only intensified their focus on improving manufacturing processes.
Assess Your Performance Now
To manage these activities effectively, manufacturing leaders need to:
establish safe work processes,
document quality procedures,
set production schedules,
specify new capital investments,
design training programs,
manage supplier relationships, and
lead manufacturing improvement efforts.
This assessment will help your organization understand how to manage all of this without adding to the bottom line. Manufacturing leaders need to assess their manufacturing processes to establish a baseline for improvement and annual performance targets.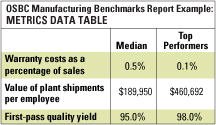 For example, top manufacturing companies report a total value of plant shipments in excess of $450,000 per employee.
Other key manufacturing metrics include:
scrap and rework costs,
first-pass quality yield,
standard customer order lead time,
labor turnover, and
costs of goods sold.
To guide you in your adoption of best practices and implementation of supply chain information systems, the report also reviews the following:
supplier management strategies,
outsourcing,
employment practices,
production initiatives, and
order fulfillment capabilities.
For example, when it comes to plant-level manufacturing initiatives, Lean manufacturing practices have been adopted by less than one-third of factories. These practices include continuous flow production, work cells, lot-size reduction, and cross-functional teams.
Why Trust APQC?
Founded in 1977, APQC is a member-based nonprofit organization. APQC serves as a steward for broader open standards benchmarking, providing global, consistent process measurement.
Need Help?
For help getting started, please contact the help desk at +1-713-681-4020, 800-776-9676, or osbc@apqc.org.