Michael J. Hinson, C.P.A., M.B.A.
Chief Financial Officer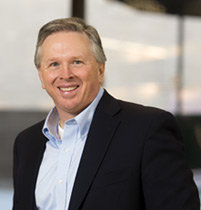 Mike Hinson joined APQC as CFO in 2016, leading our finance and accounting teams while managing our facilities department and serving as a member of the executive team. In addition to these day-to-day finance and administrative functions, Mike assists as a subject matter expert for various customer measurement projects and finance research efforts.
An energetic, versatile, and passionate leader, he takes pride in developing high-performing teams, enhancing productivity, and delivering organizational and performance excellence to stakeholders.
Mike has broad, hands-on commercial and operational experience with both start-ups and Fortune 500 companies. Prior to joining APQC, he spent more than four years as the president and chief executive officer of Wright Therapy Products, Inc., a medical device manufacturer based in Pittsburgh. He tripled revenues during his time with Wright, leading to the company's eventual acquisition by a strategic partner.
Earlier in his career, Mike gained extensive sales, finance, and international experience while leading organizations within companies such as Bayer Healthcare (MEDRAD), Sony Electronics, ARCO International Oil & Gas, and KPMG. He was a key contributor in developing a culture of continuous improvement and performance excellence that led to Bayer (MEDRAD) becoming a two-time recipient of the prestigious Malcolm Baldrige National Quality Award. This award was created under the leadership of APQC in 1985 and is the only formal recognition given by the President of the United States that honors performance excellence of U.S. organizations.
Mike received his Bachelor of Business Administration degree in accounting from Texas Tech University and his Master of Business Administration degree from Southern Methodist University. He is a licensed Texas Certified Public Accountant.
He is a past board member of the YMCA of Greater Pittsburgh and also served as a director on the Pine-Richland School Board. Mike enjoys golfing and spending time with his wife Lori and three daughters.