Make Best Practices Your Practices in Supply Chain Management and Product Development
The impact of supply chain performance can mean millions of dollars to an organization's bottom line. An APQC Supply Chain Management (SCM) Membership provides your team—and every employee in your organization—resources to help you reduce costs, improve cycle times, and add value through the use of benchmarking, best practices, and knowledge sharing.
Fast access to actionable tools and data
Use our powerful, online self-service benchmarking tools, access our user-friendly Knowledge Base for relevant case studies, or reach out to our global community of members to collaborate directly with peers. APQC's targeted supply chain management resources include benchmarks, best practices, and case studies in the following areas:
supply chain planning
procurement
manufacturing
logistics
product development
Your single source for what works in supply chain and product development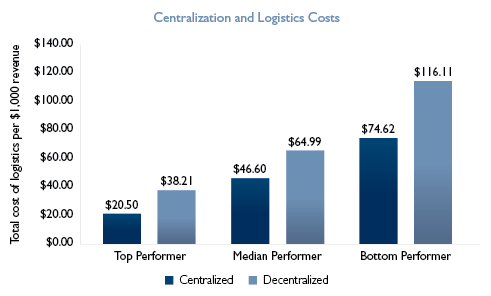 Our rigorously validated supply chain data and proven best practices provide you with unparalleled qualitative and quantitative information for smarter decision making. With the world's largest database of benchmarks and best practices at their fingertips, your supply chain team members can instantly tap actionable knowledge that isn't available anywhere else. Learn the drivers behind top performance and get the guidance you need to implement them to optimize your supply chain processes, reduce costs, and improve cycle times.
Learn more about APQC's benchmarking opportunities.
Access Supply Chain Management peers
As an APQC member, not only do you have access to other APQC members, you can also tap into the collective knowledge of members of AME via the AME/APQC Benchmarking Community of Practice Query System. In partnership with APQC, AME built the system that allows members to submit questions concerning best practices in lean, manufacturing, supply chain process, productivity, and more. Questions are posted to members of the AME/APQC Benchmarking Community of Practice who, along with APQC and AME staff, provide responses.
Membership Pricing
Pricing for memberships varies by organization type and the membership(s) desired. Please contact us by calling 1-800-776-9676 (+1-713-681-4020 outside the US); sending an email to apqcinfo@apqc.org; or completing this form. An APQC relationship manager focused on your industry will provide you with membership and pricing information.
Get started on the fast track to supply chain management excellence today.