Make Best Practices Your Practices in Knowledge Management
Are you managing your organization's largest asset effectively? Successful organizations know that knowledge in action gets results, linking people to expertise and supporting strategic goals. APQC introduced knowledge management (KM) as a business discipline in the early 1990s, and offers you reliable, proven knowledge management frameworks and research.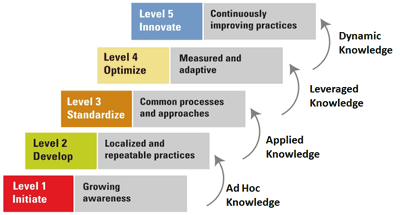 Levels of Knowledge Management Maturity
An APQC Knowledge Management Membership provides your KM team—and every employee in your organization—with exclusive access to APQC's targeted KM content including benchmarks, best practices, and case studies based on more than 20 major research studies on topics ranging from communities of practice to social networking to KM measurement.
Use knowledge management to achieve innovation and operational success.
Whether you are just starting on the journey to excellence in knowledge management or want to learn from organizations that have mastered it, an APQC Knowledge Management Membership offers you unlimited access to a range of trusted information and tools to help you:
develop an effective KM strategy,
design and implement KM approaches and enablers,
assess your KM program with the KM Capability Assessment Tool,
improve your KM processes, and
accurately measure results.
Get started on the path to knowledge management excellence today.
Do you have the edge?
When it comes to KM, APQC leads the way. Read the latest from APQC's very own Carla O'Dell and Cindy Hubert with their new book "The New Edge in Knowledge: How Knowledge Management Is Changing the Way We Do Business".
Membership Pricing
Pricing for memberships varies by organization type and the membership(s) desired. Please contact us by calling 1-800-776-9676 (+1-713-681-4020 outside the US); sending an email to apqcinfo@apqc.org; or completing this form. An APQC relationship manager focused on your industry will provide you with membership and pricing information.