Cross-functional Resources and Expertise for Your Organization's Improvement Efforts
An APQC Enterprise membership grants every employee in your organization unrestricted access to APQC's benchmarking tools and assessments, data for decision support, best practice content in the Knowledge Base, and a line-up of subject matter experts in knowledge management and process improvement.
Wherever your organization is on the process improvement journey—from grass-roots process standardization efforts in a single business unit, to gap analysis, measurement and best practice implementation enterprise-wide—the Enterprise membership ensures you have the tools and support you need.
Find out where you stand.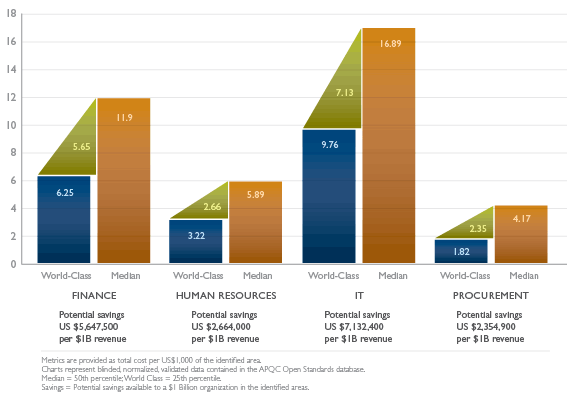 Assess cost, productivity, head count, and more to pinpoint areas for improvement and set targets. APQC offers a variety of assessment tools and the largest benchmarking database in the world to help you find out where you stand relative to organizations with world-class processes.
Learn best practices.
The APQC Knowledge Base includes thousands of case studies, presentations, white papers, and articles containing the processes and practices of organizations that are doing things well—and realizing the benefits. In addition to best practices in human capital management, finance and accounting, knowledge management, and supply chain management, you will find business excellence and process management content in areas including:
Benchmarking
Quality
Process
Measurement
Product development
Innovation
Implement change. We're here to support you.
Once you find out where you are and where you need to be going, APQC provides the networks of your peers and experts, tools, frameworks, and training opportunities to help your processes become world-class.
Request membership information.
Membership Pricing
Pricing for memberships varies by organization type and the membership(s) desired. Please contact us by calling 1-800-776-9676 (+1-713-681-4020 outside the US); sending an email to apqcinfo@apqc.org; or completing this form. An APQC relationship manager focused on your industry will provide you with membership and pricing information.