Mary C. Driscoll
Principal Research Lead, Financial Management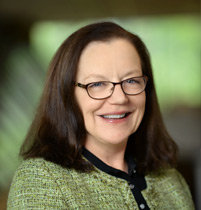 Mary Driscoll is APQC's principal research lead for Financial Management, responsible for identifying and disseminating best practices and metrics used to improve the effectiveness of chief financial officers and the finance function of organizations.
She develops and executes at least six in-depth research programs each year, designing surveys, analyzing quantitative data, and interviewing executives considered to be true pioneers. Her recent research programs have delved into strategic risk management and advanced planning and financial analysis. She also produces a monthly webinar series on topics ranging from "Finance's Role in Business Intelligence" and "Leading Practices in Financial Reporting" to "New Trends in Shared Services" and serves as a frequent contributor to APQC's financial management blog.
A prolific writer, she has contributed close to 200 papers, presentations, reports, or interviews to APQC's Knowledge Base. Some of her more popular content includes: Enterprise Risk Management: Seven Imperatives for Process Excellence, Finance Needs to Figure Out Big Data, and Advanced Financial Planning & Analysis: A Look at the Building Blocks.
Mary has been researching and writing about the evolving role of the CFO — and the corporate finance function — for many years, combining her knowledge of the complex details of the finance function with the clarity of a seasoned writer and editor. The author of Cash Management—Corporate Strategies for Profit, published by John Wiley & Sons, she has also written for the Wall Street Journal CFO Report, Harvard Business Review Online, Strategy + Business, CFO Magazine, Financial Executive, and Risk Management.
She is a frequent public speaker, often presenting to financial executive professional associations and groups devoted to leadership development. In 2013, Mary was tapped by the Association of Management Consulting Firms to be part of the Annual Awards Panel of Judges based on her expertise in the financial management realm.
Prior to joining APQC in 2009, Mary was president of CFO Research Services, an arm of CFO magazine, which was owned at the time by The Economist Group. Mary was a founding senior editor at CFO magazine, where she developed numerous cover articles on topics ranging from capital structure to CFO compensation.
She earned her Bachelor of Arts degree with honors from the University of Massachusetts and studied management and accounting at Harvard University's program for postgraduate certification. In 2012, Bancroft School presented her with the Esther Forbes Award for Distinguished Professional Achievement.