Andrea Stroud
Statistician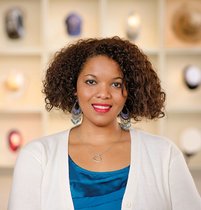 Andrea Stroud focuses on developing analytics solutions and research methodologies for APQC research projects, including client-specific projects, the Open Standards Benchmarking® database, and internal strategic initiatives that deliver actionable business insights and business value to APQC members.
In her former role as Research Program Manager at APQC, Andrea focused on developing a research program, conducting primary research, and publishing relevant meaningful content for APQC members and other clients. In that role, she concentrated on documenting best practices, trends, and metrics for innovation, product development, and supply chain management.
Since joining APQC in 2013, Andrea has conducted research projects in several topic areas, including innovation performance frameworks, rapid product development, supplier collaboration, top performers in procurement, improving procure-to-pay processes, as well as IT risk and talent management in the supply chain.
She is a regular contributor for APQC's blogs on the topics of innovation, product development, supply chain management and analytics. Some of her more popular in-depth research reports include Innovation Performance: Critical Drivers of Success, Open Innovation: Enhancing Idea Generation Through Collaboration, Blueprint for Success: Manufacturing and Blueprint for Success: Procurement. She co-authored a chapter in Open Innovation: New Product Development Essentials from the PDMA and has served as a media source for Supply and Demand Chain Executive, SupplyChainBrain, My Purchasing Center, Kinaxis, and many others.
Andrea brings more than a decade of experience in research methodology, survey design, data collection, data processing, and advanced statistical data analysis on large-scale data sets. She has broad experience in all aspects of employee relations research, customer satisfaction research, market research, program evaluation, and project development. Prior to joining APQC, she worked in research for the Geneva Foundation where she planned and executed research projects surrounding traumatic brain injury and administered neuropsychological assessments to service members in the United States and Pacific region. Earlier in her career, she was a research analyst for the Newspaper Association of America and CX Act (formerly TARP Worldwide Inc.).
Andrea holds a master's degree in project management from Boston University and a bachelor's degree in political science from Clemson University. She has completed additional graduate work in statistics and research methods. An avid learner, she speaks French and is dabbling in Korean.