Using Knowledge Management to Drive Innovation (Best Practices Report)
Details
Type:
Published:
April 9, 2003
Author:
APQC
Pages:
194
ISBN:
1-928593798
Price:
Your Price: $295.00
Member: FREE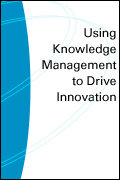 This classic APQC best practices report explores how innovative organizations manage their knowledge and use knowledge management techniques to drive product and service development. Readers will learn about:
the value innovative organizations realize from efficiently managing the flow and reuse of knowledge,
effective practices to enhance knowledge creation and reuse for innovation, and
implications for other organizations that want to better nurture knowledge.
Included are in-depth case studies of The Boeing Company, Rocketdyne Division; Millennium Pharmaceuticals; NASA Jet Propulsion Laboratory; 3M; and The World Bank.