Using Knowledge: Advances in Expertise Location and Social Networking (Best Practices Report)
Details
Type:
Published:
August 6, 2010
Author:
APQC
Pages:
131
ISBN:
978-1-60197-156-2
Price:
(Electronic Version)
Your Price: $395.00
Member: FREE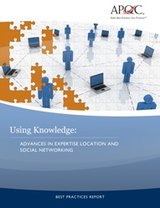 One of knowledge management's enduring value propositions has been to help employees get answers. Some of those answers may come from documented processes and best practices vetted by the organization's experts or leaders. But useful answers often come not from documents, but from people.
Never before have KM leaders had the opportunity to shape digital environments to support finding people and answers as they have today. From traditional, profile-based expertise location systems to sexy Web 2.0 social networking and tagging applications, electronic enablers to find expertise and those who possess it have ushered in an exciting new era.
In this report, APQC explores ways to find expertise and answers through Web 2.0 tools such as wikis, blogs, social networking, and social tagging. Included are in-depth case studies of best-practice organizations IBM Global Business Services, MITRE Corp., NASA, Rockwell Collins Inc., and Sun Microsystems Inc.