Is Technical Mentoring Really Different?
Details
Type:
Published:
May 27, 2016
Author:
APQC
Pages:
5
Price:
Member: FREE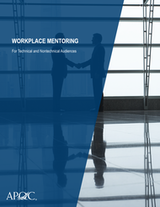 Business leaders wanted to know whether STEM mentoring is substantially different from mentoring that targets non-technical employees and, if so, how vital it is for firms to tailor each mentoring initiative to its respective target audience. APQC's research team did not find a simple answer to this question.
But from a myriad of perspectives from the featured organizations in APQC's Workplace Mentoring study, a few themes emerged. Some firms see a stronger business case for STEM mentoring because of looming expertise shortages and the need for hands-on knowledge transfer in technical fields. However, others argued that the same mentoring practices work for all employees and a more inclusive program can build crucial relationships between STEM and non-STEM components of the workforce.