Strategic Work Force Planning: Anticipating and Filling Talent Gaps (Best Practices Report)
Details
Type:
Published:
November 17, 2009
Author:
APQC
Pages:
108
Price:
(Electronic Version)
Your Price: $395.00
Member: FREE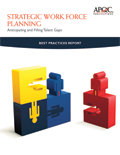 Read about the comprehensive, evidence-based, and strategic work force planning approaches of best-practice organizations:
Boeing,
Hewlett-Packard,
IBM Global Business Services,
Qantas,
Starbucks, and
the U.S. Army Armament Research, Development, and Engineering Center (ARDEC).
This report, which is based on APQC's Collaborative Research, features 15 best practices related to organizing and supporting a strategic work force planning team, establishing and embedding an effective work force planning process, developing work force planning tools and techniques, and measuring the success of work force planning efforts.
Included in the report are in-depth case studies of each best-practice organization.