Management Training Helps the Supply Chain (Infographic)
Details
Type:
Published:
July 31, 2018
Author:
APQC
Pages:
1
Price:
Your Price: FREE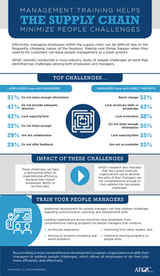 More urgent priorities within the supply chain can leave people management as a lower priority. Yet people challenges – those caused by the action or inaction of another employee – can have a detrimental effect on employee efficiency. Organizations can combat this with comprehensive manager training that addresses communication, planning, and interpersonal skills.
The day-to-day demands of the supply chain can make people management a lower priority. However, top people challenges identified by APQC can have a serious impact on employees' ability to do their jobs efficiently. Additional development opportunities for people managers can help to minimize people challenges.
This infographic presents the top people challenges experienced by employees and managers, as well as the training opportunities some organizations offer managers that can address people challenges.