Building Strong Process Management Capabilities (Best Practices Report)
Details
Type:
Published:
July 30, 2012
Author:
APQC
Pages:
122
ISBN:
13-978-1-60197-179-1
Price:
(Electronic Version)
Your Price: $395.00
Member: FREE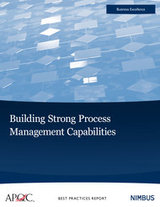 Developing, implementing, and sustaining process management capabilities can be challenging tasks. Organizations feel a strong need to find ways to identify, document, and study outstanding models of process implementation and management.
This report, Building Strong Process Management Capabilities, explains in detail three best practices used by the leading organizations that excel in process management. It also includes in-depth case studies of the following best-practice organizations:
The report discusses focus, maturity, and motivation as they apply to process, and it contains additional subject matter expertise from Chris Taylor of Nimbus.