Blueprint for Success: HR Organization
Details
Type:
Published:
April 17, 2017
Author:
APQC
Pages:
62
Price:
Your Price: $395.00
Member: FREE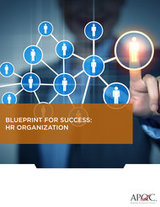 APQC's "Blueprint for Success: HR Organization" provides a blueprint for getting the HR basics right and freeing HR's time and budget to be focused on strategic talent decisions. Essentially, it is a road map for better managing the HR function through cost, efficiency, and productivity measures with the ultimate goal of better positioning HR to serve the organization's talent management needs.
The blueprint lays out the major responsibilities of the HR function within the structure of APQC's Process Classification Framework®. It outlines key performance indicators for the function as defined by APQC's Open Standards Benchmarking® database. It concludes with a discussion of HR cost, efficiency, and effectiveness performance drivers and best practices found through APQC's human capital management (HCM) research.
Organizations can use this information to map their HR processes, calculate key performance indicators for their HR operations, benchmark these against top-performing organizations, and identify areas for improvement. Then, using the performance drivers and best practices in this report as a guide, they can set a plan for their HR function's journey to increased efficiency and effectiveness.