APQC's Process Classification Framework (PCF) - Cross-Industry and Industry-Specific BPMN Versions
Details
Type:
Author:
APQC
Price:
Member: FREE
APQC members can now use the Process Classification Framework in a cloud-based process-modeling tool.
About IBM Blueworks Live
IBM Blueworks Live is a simple, cloud-based process and decision-modeling environment that allows organizations to:
Capture process and decision knowledge
Collaborate across teams
Analyze and improve business operations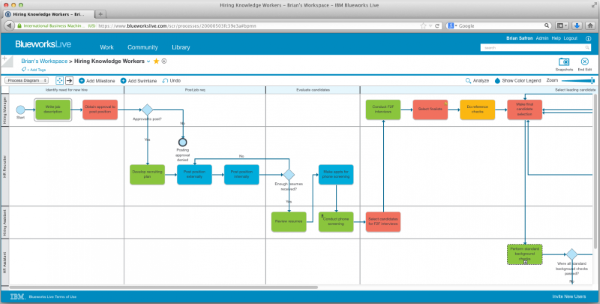 Process Classification Frameworks in Blueworks Live
Cross Industry and Industry PCFs are available to APQC members to download as .BPMN files which can be imported into Blueworks Live. See the instructions below on how APQC members can sign up for a free 60 day trial of the software.
Sign up for a special 60-day free trial of IBM Blueworks Live
Sign up for a free trial license and take your process modeling efforts to the cloud
Use the code APQCProcess60 as your job title to extend your free trial to 60 days