Manage pay, report time, and process payroll taxes
Payroll is one of the most frequently outsourced HR functions within an organization. Because of this, it's imperative that organizations understand how current payroll activities, whether or not such activities are performed in-house or by an outside provider, compare with those at best-in-class operations.
Assess Your Performance Now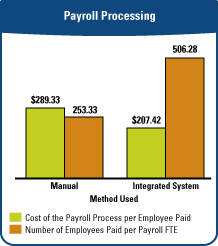 The ongoing threat of outsourcing or of switching service providers puts a great deal of pressure on payroll operations to be efficient, sometimes to the detriment of customer service. This assessment can help identify key measures and reveal core standards of superior performance that payroll managers need to track efficiency and employee satisfaction.
APQC's payroll assessment provides benchmarks and metrics that can unearth new opportunities of high relevance to directors and managers of payroll, compensation, and benefits. For example, using an integrated system, compared with a manual system, to process payroll yields significantly lower costs and higher productivity.
This assessment will help your organization better manage and execute the following processes.
Number of full-time payroll employees per 1,000 employees paid
Payroll system costs as a percentage of total payroll cost
Percentage of employees receiving payroll and disbursements via direct deposit
Percentage of payroll disbursements that are checks
Percentage of payroll disbursements that include retroactive pay adjustments
Percentage of time records processed error free the first time
Personnel cost of the payroll process as a percentage of total payroll cost
Time record processing cost
Cost of payroll processes per employee paid
Cost per payroll payment
Cycle time in days from the payroll system cutoff date until payments are made
Cycle time in days to process time record data and enter into the payroll system
Cycle time in days to reflect a new employee in the payroll system
Cycle time in days to remove a terminated employee from the payroll system
Cycle time in days to resolve a payroll error
Why Trust APQC?
Founded in 1977, APQC is a member-based nonprofit organization. With over 500 members, APQC serves as a steward for broader open standards benchmarking, providing global, consistent process measurement.
Need Help?
For help getting started, please contact the help desk at +1-713-681-4020, 800-776-9676, or osbc@apqc.org.