Source, recruit, and select employees
Like other areas of human capital management, assessing the recruiting and hiring processes can make it easier for organizations to draw meaningful comparisons with world-class organizations. Without well-defined, industry-standard metrics, it is impossible for anyone to know how a recruiting process is performing or if it is getting better.
Assess Your Performance Now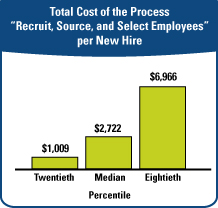 APQC's source, recruit, and select employees assessment provides metrics and practices that can unearth new opportunities of high relevance to senior HR recruiters and managers and directors of global talent acquisitions, talent management, and work force planning. For example, there is a significant difference between top and bottom performers regarding the cost per new hire. Although organizations want to manage their cost per new hire through effective sourcing and recruiting mechanisms, this metric must also be balanced against maintaining a high quality of employee and high retention rates among top performers.
This assessment will help your organization better manage and execute the following processes.
Archive and retain records of non-hires
Change/update requisition
Complete candidate background information
Conduct background checks
Create applicant records
Determine recruitment methods
Develop a job description
Develop and open job requisition
Draw up and make offers
Hire candidates
Identify and deploy candidate selection tools
Interview candidates
Manage internal/external job posting Web sites
Manage recruitment vendors
Manage requisition dates
Manage/track applicant data
Negotiate offers
Notify hiring manager
Perform recruiting activities/events
Post requisitions
Recommend/not recommend candidate
Select and reject candidates
Test candidates
Why Trust APQC?
Founded in 1977, APQC is a member-based nonprofit organization. With over 500 members, APQC serves as a steward for broader open standards benchmarking, providing global, consistent process measurement.
Need Help?
For help getting started, please contact the help desk at +1-713-681-4020, 800-776-9676, or osbc@apqc.org.