Reward and retain employees
When it comes to job satisfaction, there's no question that pay is important. But as long as employees feel that they are being paid fairly—or a little above average—money is usually not their primary motivator. Organizations that do not have a formal retention strategy can find themselves spending hundreds of thousands of dollars every year recruiting and training new employees to replace the ones who leave.
Assess Your Performance Now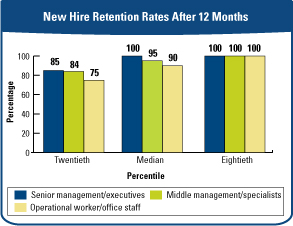 Assessing your rewarding and retention processes can help identify key measures and reveal core standards of superior performance that give managers the intelligence to build competitive benefits plans and compensation scales.
APQC's reward and retain employees assessment provides benchmarks and metrics that can unearth new opportunities of high relevance to HR managers and directors, retirement benefits specialists, global mobility specialists, and relocation advisers. For example, up to 25 percent of new hires at bottom-performing organizations leave within the first year, which indicates a tremendous opportunity for better selection and on-boarding programs at these organizations.
This assessment will help your organization better manage and execute the following processes.
Administer benefits enrollment
Administer compensation and rewards to employees
Deliver employee benefits program
Deliver programs to support work-life balance for employees
Develop benefits and reward plans
Develop family support systems
Develop salary/compensation structure and plans
Identify compensation requirements based on financial, benefits, and HR policies
Perform benefit reconciliation
Perform competitive analysis of benefit and rewards
Process claims
Review compensation plans
Review retention and motivation indicators
Reward and motivate employees
Why Trust APQC?
Founded in 1977, APQC is a member-based nonprofit organization. With over 500 members, APQC serves as a steward for broader open standards benchmarking, providing global, consistent process measurement.
Need Help?
For help getting started, please contact the help desk at +1-713-681-4020, 800-776-9676, or osbc@apqc.org.