Redeploy and retire employees
Your efforts to develop an effective global work force strategy can benefit greatly from in-depth assessment. Administrators of expatriation, redeployment, leave of absence, and retirement programs should compare themselves against their peers in order to identify ways to improve internal work processes that enhance quality, productivity, and customer service. These efforts can also lead to enhanced external market competitiveness.
Assess Your Performance Now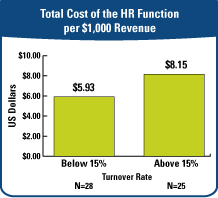 APQC's redeploy and retire employees assessment provides benchmarks and metrics that can unearth new opportunities of high relevance to HR managers. For example, a turnover rate below 15 percent results in a median cost difference of $2.22 less than companies that have a turnover rate greater than 15 percent. On the surface, a $2.22 difference might not seem like much, but it represents a median decrease of 27.2 percent in the total cost of the HR function per $1,000 revenue.
This assessment will help your organization better manage and execute the following processes.
Develop and implement employee outplacement
Manage deployment of personnel
Manage employee relocation processes
Manage employment reduction and retirement
Manage expatriates
Manage leave of absence
Manage promotion and demotion process
Manage retirement
Manage separation
Relocate employees and manage assignments
Why Trust APQC?
Founded in 1977, APQC is a member-based nonprofit organization. With over 500 members, APQC serves as a steward for broader open standards benchmarking, providing global, consistent process measurement.
Need Help?
For help getting started, please contact the help desk at +1-713-681-4020, 800-776-9676, or osbc@apqc.org.