Manage employee information
The responsibility for the timely and accurate handling of employee information falls to a specialized group of human resources personnel. These professionals are responsible for knowing what administrative tasks the organization's employee self-service system provides and how those capabilities compare. Those tasks can include benefits enrollment, dependents updating, attendance and vacation time input, training class enrollment, and access to payroll information.
Assess Your Performance Now
Assessing the processes for managing employee information allows executives to decide what to outsource and what to keep in house. It also helps them evaluate the success of current relationships.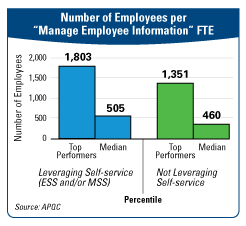 APQC's manage employee information assessment provides benchmarks and metrics that can unearth new opportunities of high relevance to directors and managers of human resource information systems (HRIS), human resources technology, business analysts, and HR systems. For example, organizations leveraging self-service to manage employee information are approximately one-third more productive than are organizations without self-service models. On average, top performers that rely on self-service options are able to support 1,803 employees per "manage employee information" full-time equivalent (FTE), whereas top performers lacking self-service systems are able to support only 1,351 employees per "manage employee information" FTE.
This assessment will help your organization better manage and execute the following processes.
Develop and manage employee metrics
Develop and manage time and attendance
Develop employee communication plans
Manage and maintain employee data
Manage employee grievances
Manage employee inquiry processes
Manage HRIS
Manage reporting processes
Manage/collect employee suggestions
Publish employee communications
Why Trust APQC?
Founded in 1977, APQC is a member-based nonprofit organization. With over 500 members, APQC serves as a steward for broader open standards benchmarking, providing global, consistent process measurement.
Need Help?
For help getting started, please contact the help desk at +1-713-681-4020, 800-776-9676, or osbc@apqc.org.