A Knowledge Strategy Senior Leaders Can Get Behind
Thank you for your interest in APQC's recent KMWorld white paper, A Knowledge Strategy Senior Leaders Can Get Behind. To learn more about APQC's Knowledge AnalyticsSM process, download our most recent white paper.
Please complete the form below to receive your download.
Get your copy of Knowledge Analytics: A Fresh Way of Thinking About an Old Problem today!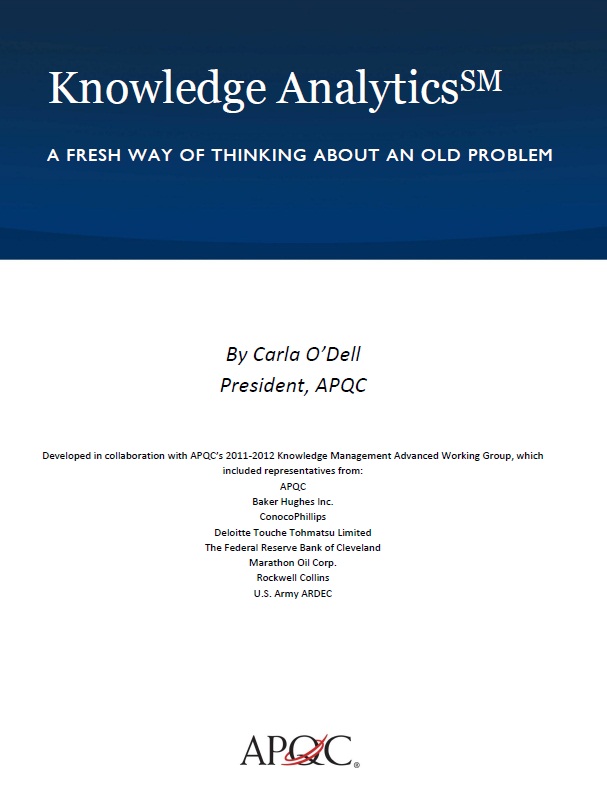 Knowledge AnalyticsSM is a process designed to facilitate conversations with senior leaders and assimilate new, data-driven insights about knowledge into business decision making. APQC sees this methodology as the next big breakthrough in how organizations think about and measure the impact of knowledge management.
This white paper explains the seven-step Knowledge Analytics process and how to apply it to your organization. The process was designed by APQC President Carla O'Dell in collaboration with the 2011-2012 APQC Knowledge Management Advanced Working Group.
Learn More About APQC's Knowledge Management Practice
APQC has the most authoritative collection of knowledge management best practices, case studies, implementation guides, assessments, training, maturity models, and design and implementation plans. Learn more about our KM practice at www.apqc.org/km.