Develop, Train, and Counsel employees
Advances in learning theory continue to provide insights into how adults learn and how training can be organized most effectively. Comparing your development and training activities with those of other organizations can provide insights into the ideal training organization structure, resource allocations, and training methods. It can also provide critical metrics for measuring the effectiveness of such programs.
Assess Your Performance Now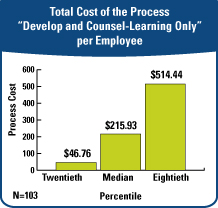 APQC's develop, train, and counsel assessment provides benchmarks and metrics that can unearth new opportunities of high relevance to directors and managers of organizational development, leadership development, and training and development. For example, there is a major difference in the total cost of learning and development per employee for bottom versus top performers. This data suggests that organizations investing in more training days and dollars per employee may produce greater revenue per employee than those investing less in this important human capital process.
This assessment will help your organization better manage and execute the following processes.
Align employee and organization development needs
Create/maintain employee induction programs
Increase the average number of learning days per employee
Define performance objectives
Develop competency management plans
Develop employee career plans
Develop functional/process competencies
Develop, conduct, and manage employee and/or management training programs
Establish training needs by analysis of required and available skills
Evaluate and review performance programs
Introduce new employees to managers
Introduce workplace to new hires
Manage collective bargaining processes
Manage employee skills development
Manage health and safety processes
Manage labor management partnerships
Manage labor relations
Match resources to requirements
Review, appraise, and manage employee performance
Why Trust APQC?
Founded in 1977, APQC is a member-based nonprofit organization. With over 500 members, APQC serves as a steward for broader open standards benchmarking, providing global, consistent process measurement.
Need Help?
For help getting started, please contact the help desk at +1-713-681-4020, 800-776-9676, or osbc@apqc.org.