Building Strong Process Management Capabilities with BPTrends
Building Strong Process Management Capabilities
It happens all the time: lost opportunities, missed handoffs, rework, delayed product launches, and frustrated employees and customers. The likely culprit: poorly managed processes. Even mature organizations struggle with inconsistent or incorrectly applied process management techniques. Only when a holistic approach is taken does the entire organization benefit from process improvements.
Our previous research has confirmed it: process-focused organizations realize the benefit of consistent and comprehensive process management. A simpler way to understand the impact of process is through APQC's Seven Tenets of Process ManagementSM – the common process competencies evident within successful organizations.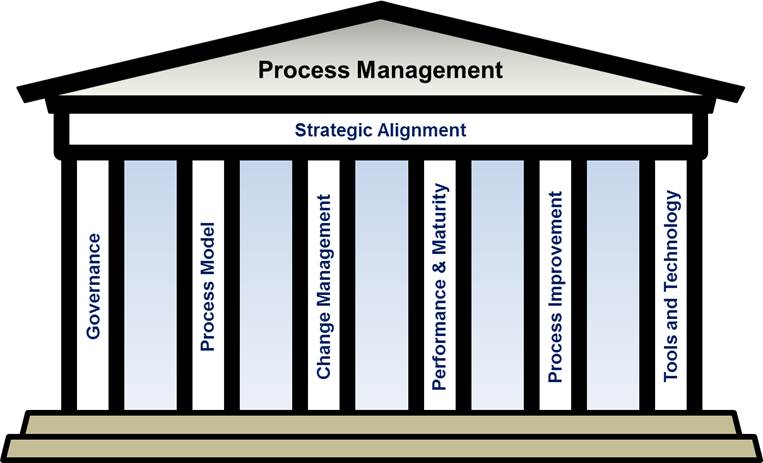 Our research has shown that organizations neglecting the tenets for the benefit of short-term gain do so at their own peril. Balanced, consistent approaches to process management are the only way to ensure the long-term strategic change today's shareholders require.
APQC, along with BPTrends, is launching a research project to uncover the practices of process-focused organizations. As a participant in the study, you'll learn how numerous organizations implement and balance the Seven Tenets to manage their business processes while delivering consistent and reliable value to their organization and stakeholders.


Study Scope
Determine the appropriate level of process management for your organization by understanding the various levels of process orientation and the resources and value associated with each style
Identify the appropriate blend of the seven tenets for your organization by carefully examining real-world examples and interacting directly with the best practice partners
Establish process management scope, goals, and success factors for your organization based on what has really worked for other organizations around the world
Deliverables
A final report highlighting the key findings from the study.
A series of in-depth best practice partner profiles, documenting real-world insights and best practices.
All corresponding study materials, slides, summary profiles, interview guides, and surveys.
Unparalleled, direct, and timely access to professionals doing this work each and every day.
Timeline
November: kickoff meeting to set the stage
November-February: site visits with best practice partners
March: final knowledge transfer and networking session
Study Leadership
Paul Harmon

Paul Harmon is a Co-Founder, Executive Editor, and Senior Market Analyst at Business Process Trends – www.bptrends.com – an internationally popular website that provides a variety of free articles, columns and book reviews each month on trends, directions and best practices in business process management. Paul is the author of Business Process Change: A Guide for Business Managers and BPM and Six Sigma Professionals, 2nd Ed. (Morgan Kaufman, 2007) the best selling introduction to Business Process Management and a popular textbook in academic BPM programs.
Jeff Varney


Jeff Varney is a Sr. Advisor within APQC's Advisory Services group. In this role he is responsible for the implementation of business process management and process improvement projects, knowledge management, custom benchmarking, performance measurement, and performance improvement activities.
John G. Tesmer


John G Tesmer is a Sr. Project Manager within APQC's Open Standards Benchmarking group. In this role he is responsible for the daily management of all Open Standards Benchmarking people, processes, and technologies, including the world-renowned Process Classification Framework and APQC's Open Standards Benchmarking survey suite. John also works closely with Jeff Varney to shape APQC's Business Excellence offerings.

BPTrends


BPTrends (www.bptrends.com) is the primary source of business intelligence for business executives and process change practitioners around the globe. Industry thought leaders provide analysis and opinion on trends, directions and best practices relating to all aspects of business process management. BPTrends is the most comprehensive, in-depth business process management resource devoted to educating and informing the market. The BPTrends BP Tools Reports are the most widely read reports on BP software tools available and our BPTrends Surveys are widely quoted. With over 20,000 members, BPTrends is the largest community of BP Professionals in the world. BPTrends Associates provides BPM consulting and education services to organizations, assisting them in the planning, architecting, designing, measuring and managing of their business processes. (www.bptrendsassociates.com)