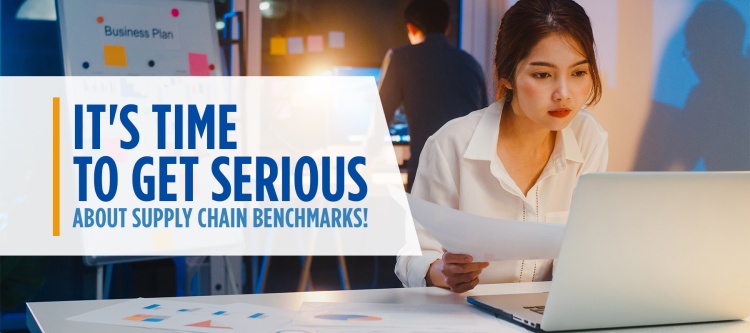 Supply chain benchmarking is important because managers need to:
understand how their supply chains compare to competitors',
evaluate "as is" conditions before they can determine what to fix, 
encourage innovation,
compare performance across business units, and
leverage data for restructuring and change.
APQC defines benchmarking as the process of comparing and measuring your organization against others, anywhere in the world, to gain information on philosophies, practices, and measures that will help your organization take action to improve its performance. Benchmarking gathers the tacit knowledge—the know-how, judgments, and enablers—that explicit knowledge often misses.

The benefits of supply chain benchmarking start with the task of collecting the necessary data and converting it into industry-standard practices and metrics. The simple—and not so simple—act of gathering key operational measures on one scorecard provides a broad snapshot of current performance. This data-gathering process can be a useful cross-functional, team-building exercise when it helps managers who are ultimately responsible for making changes better understand what needs to be done.

Benchmarking can be seen as the systematic process of searching for best practices, innovative ideas, and more productive operating methods. Strategic benchmarking helps make sure that improvement efforts and resources are directed at activities that will move the organization forward.
Comparative information that shows key performance gaps can spark change within underperforming areas and focus limited resources. Of course, any benchmarking activity is pointless if it doesn't prompt an organization into action. Download APQC's free infographic Ensuring Supply Chain Success with Measures to begin your Supply Chain Benchmarking journey. 
How is Benchmarking Done in Supply Chain?

APQC's Value of Benchmarking research indicates that supply chain functions tend to make benchmarking an integral part of their culture rather than an ad hoc effort. Research participants were asked to rate how much they agree with several statements about benchmarking and their organizational culture. More respondents from supply chain functions indicated that they agree or highly agree that benchmarking is ingrained in how their organizations conduct business and manage performance. 

This group of respondents also agrees more that benchmarking is expected when their organizations build a business case or conduct improvement projects and that benchmarking is an intrinsic component of organizational decision making. Accordingly, fewer of these respondents agree or highly agree that benchmarking within their organizations is only conducted on an ad-hoc basis for specific projects. 
Among supply chain respondents in APQC's Value of Benchmarking research, benchmarking is a key part of supply chain culture (Figure 1). Accordingly, 41 percent of them say their organizations make findings available and accessible throughout the entire organization.


                                                                  Supply Chain Benchmarking Respondents…
                                                                                                      Figure 1

Although benchmarking presents the opportunity to obtain rich and beneficial information, organizations may not be making full use of this tool. For example, many supply chain functions do not have ready access to data about the financial impact of benchmarking—more specifically, the financial benefits related to cost savings, improved efficiency, and increased productivity. In fact, 29 percent say their organizations do not measure the financial impact of supply chain benchmarking, and 33 percent do not know the financial impact. While benchmarking efforts in supply chain are fairly sophisticated, organizations could better ensure internal support for future benchmarking projects by tracking the financial impact. 

Measuring and Reporting the Impact of Benchmarking 

Benchmarking provides organizations an opportunity to:
measure operational performance relative to external peer groups,
assess operational performance relative to internal peer groups (such as other locations or divisions within the same company),
identify performance gaps and evaluate improvement opportunities,
establish performance targets using external comparisons,
identify key business practices and drivers that influence performance, and
assess the operational progress of an organization over time relative to itself and external benchmarks.
Benchmarking results can also be used to set baselines for process improvement projects, to build a business case for new initiatives, to prioritize high-impact opportunities, and even to validate success or return on investment.