Why It's So Hard to Engage Senior Leaders in KM—And What to Do About It

Executives are very busy people. They can also be skeptical when it comes to new initiatives, especially when they can't immediately see how an investment will translate to the bottom line. That's a big factor in why it's so hard for knowledge management teams to get leaders on their side, much less convince them to become active participants in KM platforms and approaches.
If your organization's c-suite is passionate about knowledge sharing and provides all the support your KM program needs—congratulations! You're one of the lucky few, and you can stop reading here. For most firms, getting executives to walk the KM talk is a struggle. And even when a KM team manages to build senior leader buy-in, it can fall apart quickly when there's turnover at the top or a shift in strategic priorities.
APQC's knowledge management metric of the month highlights results from our Promoting Knowledge Management and Making It Stick survey, in which 41% of respondents said senior leaders are the hardest segment of the workforce to engage in KM. An additional 23% reported that line managers are the most challenging audience. It's clear that many people in leadership positions are not providing the active sponsorship and support that KM programs need to thrive.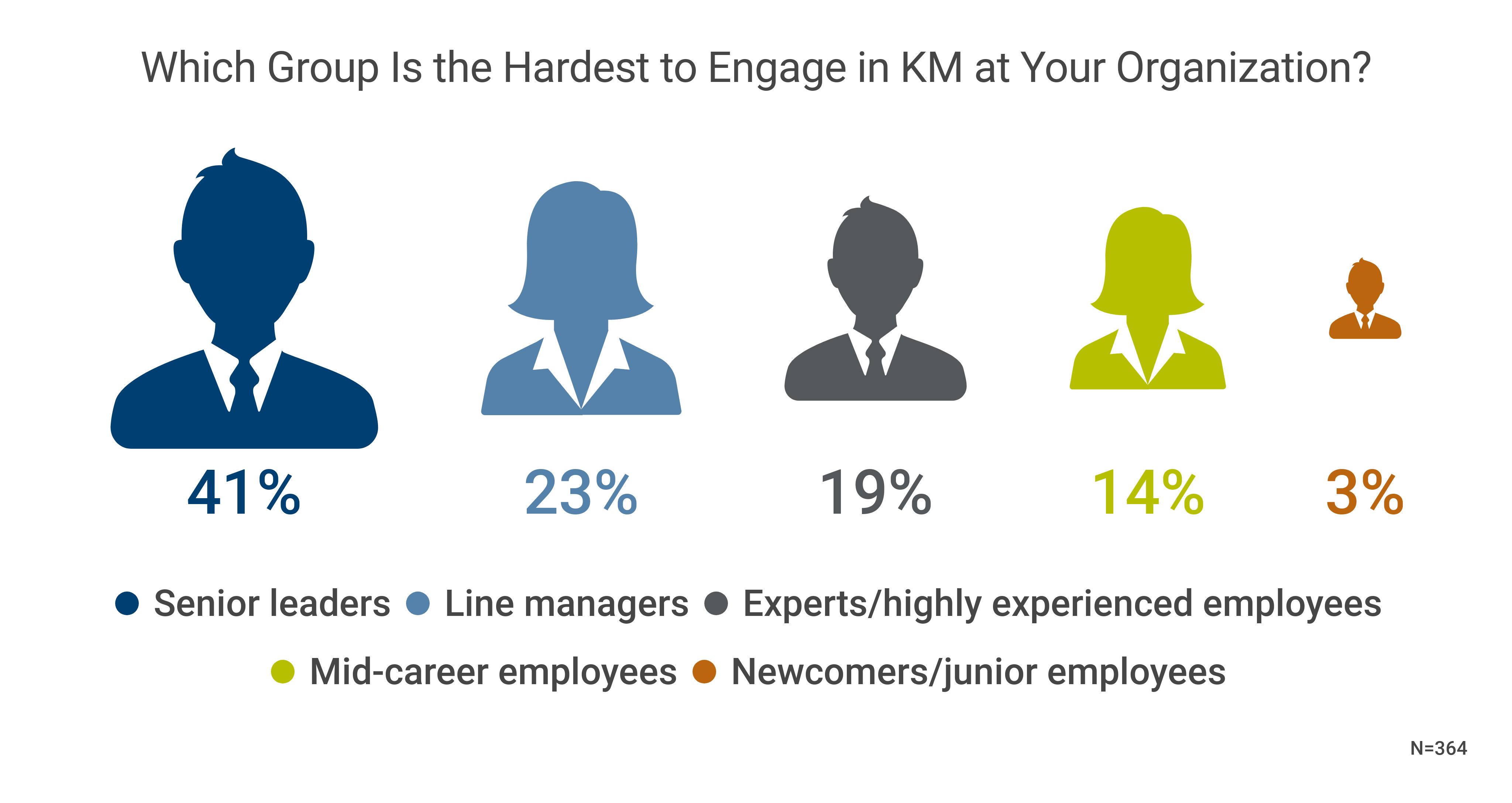 There is no magic formula for getting senior leaders on board, but APQC has lots of experience persuading KM skeptics and turning lukewarm sponsors into passionate advocates. Below are 5 recommendations to help you better engage leaders in your KM effort.
1. When starting out, clearly state the business problem KM will solve.
APQC strongly recommends that new or expanding KM programs develop a business case to articulate the exact inputs required for success as well as the expected outputs. But even if you don't take it this far, you need to define KM's mission in a context that will resonate with leaders. How will improved knowledge sharing and collaboration help the business? What problem will KM solve, or what new opportunities will open up due to better KM?
Be as specific as possible, and shape your argument around challenges your executives care about (it helps if you can talk to them about their priorities). For example, if search is a pain point, you might emphasize the potential for time savings through improved content management. But if rapid expansion is causing strain, you could focus on reducing time-to-competency by connecting new hires to experts and expertise. No matter what angle you take, aim to link your KM proposals to measureable goals, rather than vague imperatives to reduce siloes or build a more collaborative culture.
2. Involve business leaders in setting the KM strategy and priorities.
People support what they help create. Including leaders in KM strategy development builds buy-in while establishing a shared vision for when, why, and how improved knowledge flow will affect business outcomes. Not only will this increase the likelihood of sustained sponsorship and funding, it also encourages alignment between KM and business strategy, boosts stakeholder accountability, and multiplies the chances that the KM program will be able to measure business impact.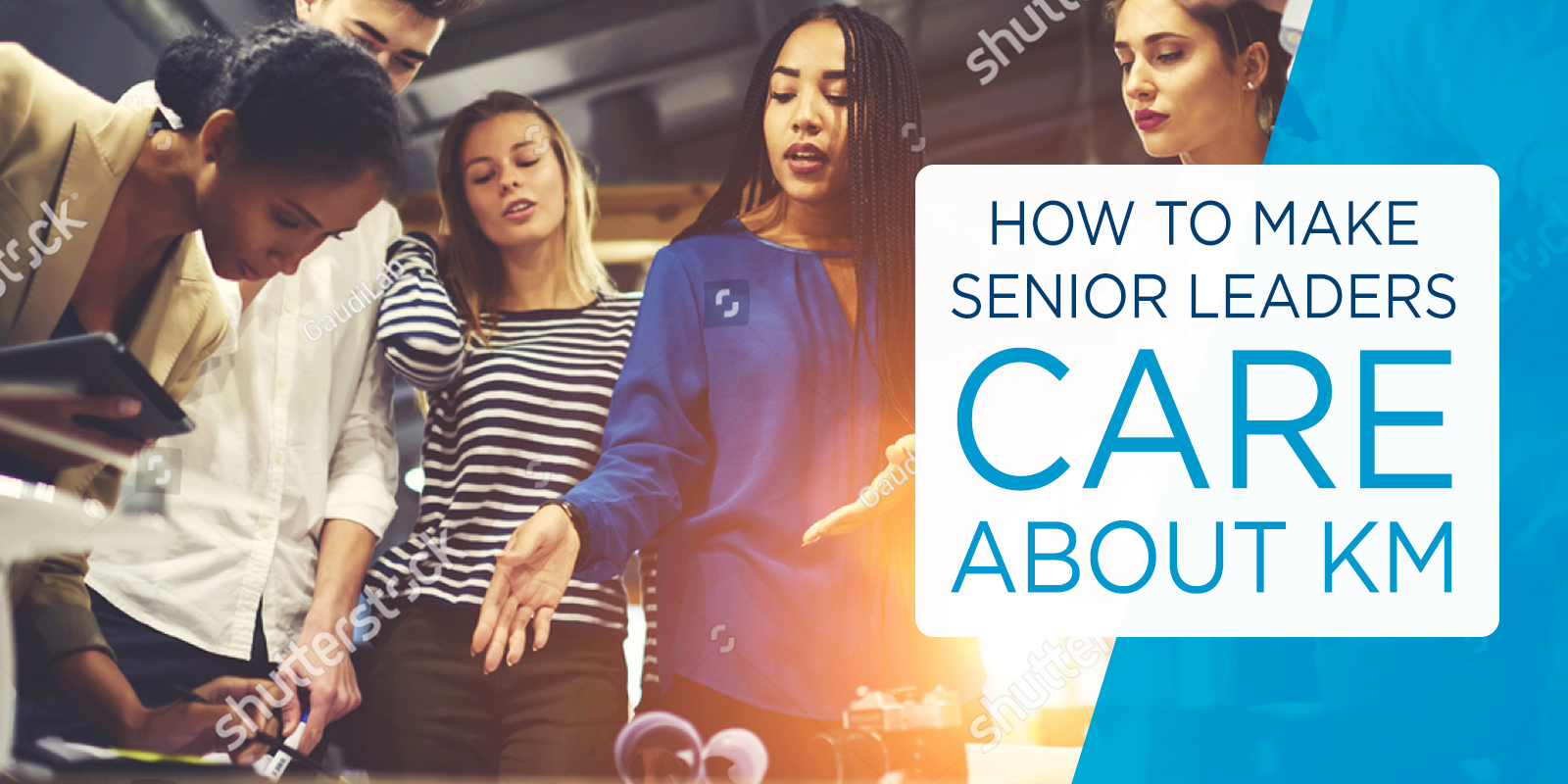 It's equally important for established KM programs to get leadership input as part of ongoing strategic planning. Organizational strategies are becoming more agile in response to internal and external changes. KM should tap into leaders to ensure that KM priorities flex and evolve along with the business as a whole.
3. Go after quick wins where possible, but set realistic expectations regarding the timeline to see results.
Leaders are often impatient, and they want to see ROI as soon as possible. To prove that KM is working, we recommend scoping your initial projects to include some quick-and-dirty results—ideally within six months. You might score an easy win by identifying different business groups that are paying for the same tools or subscriptions without even knowing it. By consolidating these purchases and centralizing access to the information, you can show your sponsors a hard-dollar savings. Similarly, if you capture a few high-profile success stories outlining how communities of practice solved a problem or prevented a big mistake, that can help persuade leaders to stay the course.
But it's also important to manage leaders' expectations. Some KM benefits take years to accrue, even with a well-funded and sustained effort. We recommend being honest about what you can achieve when, establishing a timeline with interim milestones, and promoting KM as a long-term investment in the organization's future.
4. Establish a communications and training plan specifically for leaders.
In recent years, KM teams have gotten very savvy about tailoring their messaging to different audiences. Each subset of the workforce is more likely to respond to communications and training that focus on its unique needs, circumstances, and reasons for participation. Leaders are no different, so it makes sense to customize messaging and outreach tools for them. For example, a management-oriented training module might explain the benefits of getting the experts under you to codify their knowledge and then provide tips for selecting and motivating knowledge transfer participants.
As part of any outreach to leaders, it's important to be explicit about what you need from them. Request time on all-staff meeting agendas, ask them to drop by high-profile KM events, and give them talking points. Furthermore, many KM programs encourage leaders to "actively participate" without defining what that means. If you want your executives to create expertise profiles, contribute to virtual forums, and role-model collaborative behaviors, you'll need to outline the expectations and then coach them so it's fast and easy. Executives have packed schedules and may be hesitant to admit they don't know how to do something, so a little hand-holding goes a long way.
5. Use metrics and analytics to demonstrate KM's value.
Many organizations come to APQC looking for a surefire way to calculate KM's ROI. Unfortunately, it's just not that simple. While KM can and does contribute bottom-line value, it can be time-consuming and difficult to isolate its impact from the other myriad changes and improvements going on at any one time.
Despite this, executives respond to evidence, so it makes sense to think broadly about KM's contributions to the business, monitor the data you can collect, and report your results. APQC recommends the value path measurement technique to show correlations between KM activities and business outcomes. However, organizations use a range of approaches, from direct measurement to user surveys and quantification of success stories. We find that a combination of program metrics, employee testimonials, and compelling success stories is usually the most effective way to convince leaders that your KM program is making a difference.
Tweet