What's the Secret to Process Management People Actually Use? Make it Easy!

I recently talked to Karen Appleby of Salo and Beata Christie of CF Industries about how to use process to support growth initiatives. Particularly around their experiences with an acquisition that had resulted in significant changes for CF Industries and the implementation of a new ERP and legal structure affected nearly every company process.
Christie and Appleby will be present Using Process to Support Growth Initiatives at APQC's Process & Performance Management Conference.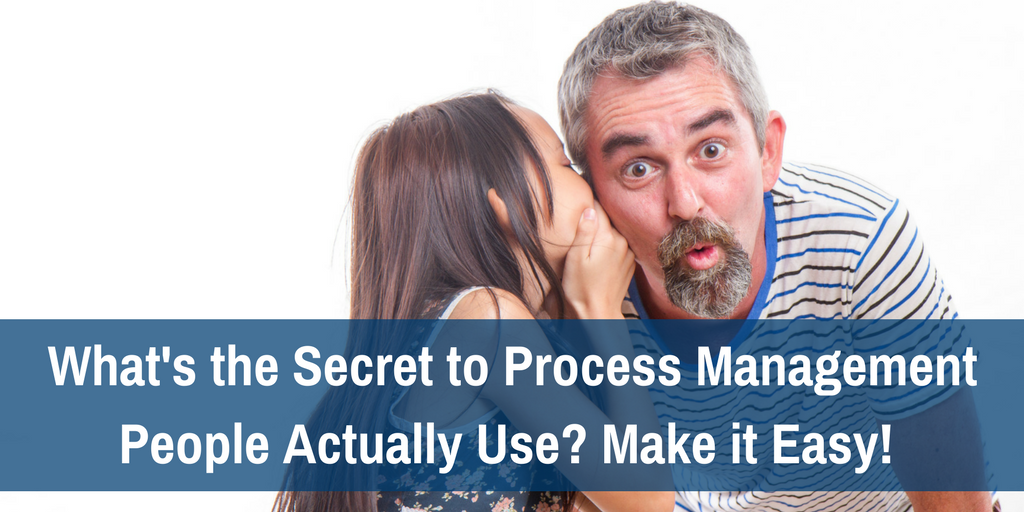 What was the biggest challenge about capturing processes from two previously separate entities?
The scale of the integration was the biggest challenge. Both the acquired and the acquiring organization were decentralized and had grown by acquisition. At some points we were attempting to integrate five or more process variations in an organization that had little experience with process. Part of the challenge was getting that many participants to come together and envision a new process using technology they haven't seen before.
How did you go about using a significant change to build a foundation for creating a process-driven organization?
It was a journey, when we started the organization, it was really just focused on solving the immediate problem. As a consultant committed to the value of process, Appleby knew that there would be value in documenting processes using common process and tools. We adapted our "process development" process as we went along until we created something that seemed to work well for the organization. As new changes occurred, it became evident that the change process that we had already created was a good place to start. That led to further refinements. Once we had those elements in place, it became clear how useful they were for additional changes. The lesson for others is that if you are mindful, you really can use a big change to build a foundation for a process-driven organization.
What are the keys to using a common platform for process design and documentation during a growth initiative?
It has to be easy. If people are already facing a lot of turmoil, the last thing they want to do is learn a complex tool. We started with very simple standards – I think there were maybe 10. We had naming conventions and some required fields for processes. We were directive – processes had to be documented in the tool – and we had strong sponsorship. We also used a small group of process consultants that were working in close proximity for a lot of the initial documentation. They shared their experiences and connected processes which enabled us to get to a good set of working standards more quickly. Initially, Appleby reviewed most of the documentation in an attempt to keep everyone on standard as well. As the organization gained more experience, we held training sessions and broadened the base for documentation. Now process owners are able to maintain their own documentation.
How do you define process agility?
Agility is all about responsiveness. The more knowledgeable an organization has about how its work is done, the easier it is to identify opportunities to streamline and assess how work will be affected by changes in market conditions or strategy. Process provides a great framework for addressing cross-functional challenges.
What was your biggest lesson learned post growth-initiative related to process?
Process is a living, breathing thing and it must be nurtured to reap the greatest benefits. It is never finished, because change never stops. Hence leadership sponsorship is critical. If you keep it current and use it as a framework, it can be a powerful tool for achieving great outcomes.
Karen Appleby is a transformation and change leader that helps Finance and HR organizations solve complex problems and improve performance. She relies on extensive experience with process improvement, change and project management to achieve sustainable results.
You can find Karen on LinkedIn.
Beata Christie is a Financial Reporting Manager for CF Industries Inc., a publicly traded global leader in chemical fertilizer manufacturing. In her matrix role, she is responsible for benefit plan accounting and reporting as well as revenue recognition and reporting.
Tweet