What's Next for Communities of Practice? Participate in APQC's New Next-generation CoPs Research

Over the past 15 years, APQC has conducted four large-scale studies on communities of practice and identified dozens of best practices related to building and sustaining effective communities. However, as technology and work norms evolve, we must consider whether classic community structures still deliver the same value they did a decade ago. Do communities retain pride of place in the KM toolkit, or have new tools for enterprise social networking and collaboration shifted the landscape?
As my colleague Lauren Trees shared in APQC's recent KM community call, APQC's CoP research has found that the collaboration trajectory for CoPs has changed greatly over the years (Figure 1):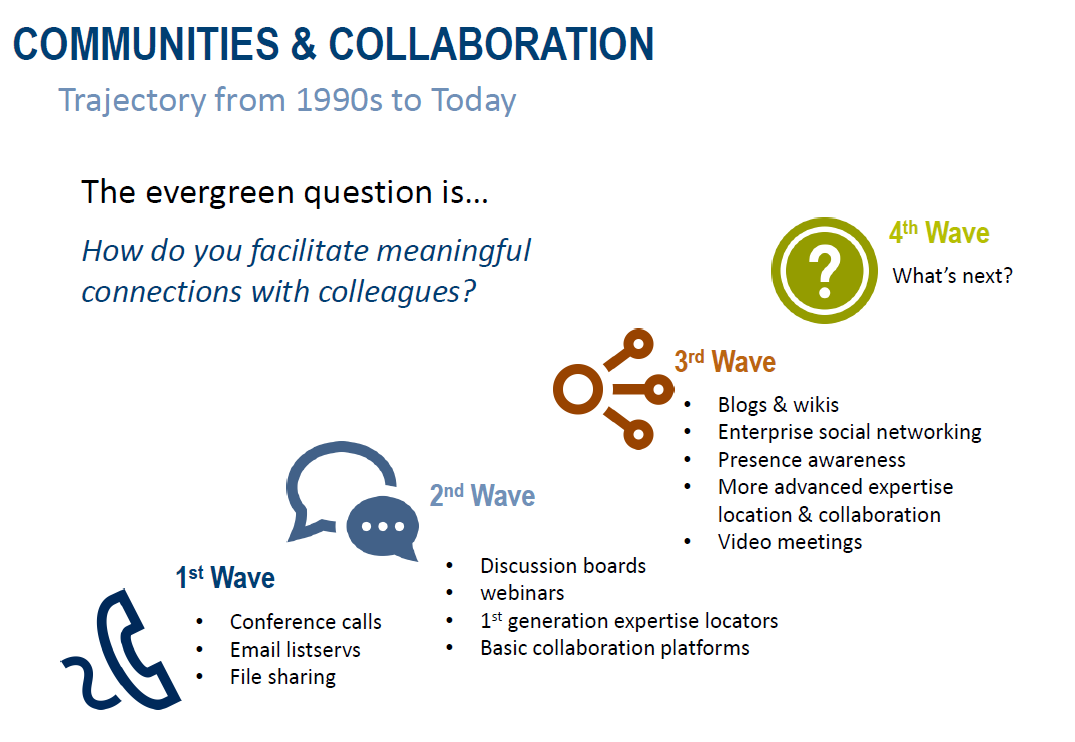 And we have found that communities are increasingly becoming more mobile: Apps for communities are becoming more essential as people come to expect anytime, anywhere access to information and dialogue (Figure 2, from the recent APQC "Envisioning the Workspace of the Future" study):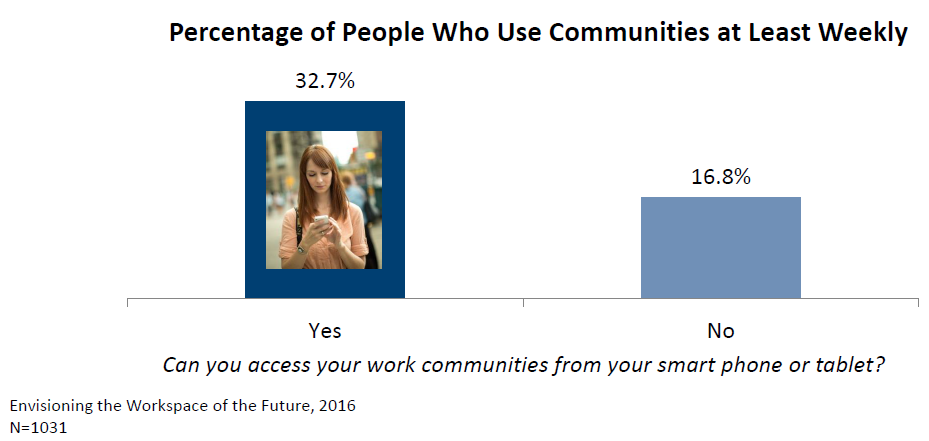 To help understand "what's next" for CoPs, APQC is conducting a new research project on "Next-generation Communities of Practice." The purpose of this study is to re-assess established best practices from APQC's past CoP research and to understand the evolving role of CoPs in KM programs, in light of new, innovative technologies for enterprise social networking and collaboration.
The study will combine both survey and case study interview data. For those who are interested in participating in the short, online survey and have not yet done so, the data collection period for the survey will continue to be open until January 30, 2017. Please click on the following link to take the survey: www.apqc.org/communities2016.
Survey participants will receive a survey summary report at the conclusion of the analysis. The confidentiality of all data collected is protected by APQC's Benchmarking Code of Conduct.
Think your organization exhibits successful and "next generation" practices for CoPs? APQC is always looking for new organizations across industries to learn from their best practices. Contact APQC project manager Rachele Collins at rcollins@apqc.org, or 713-685-4697, to discuss.
Tweet