Is your organization's procurement area running smoothly? APQC created our popular Procurement Tune-Up Diagnostic and Interactive Procurement Tune-Up Diagnostic to help organizations find out. Both tools have been updated for 2012 with fresh data from our Open Standards Benchmarking in procurement.
The Procurement Tune-Up provides data and descriptions for four essential procurement metrics:
   total procurement cycle cost,
   purchase orders processed per FTE,
   number of procurement cycle FTEs, and
   purchase order cycle time.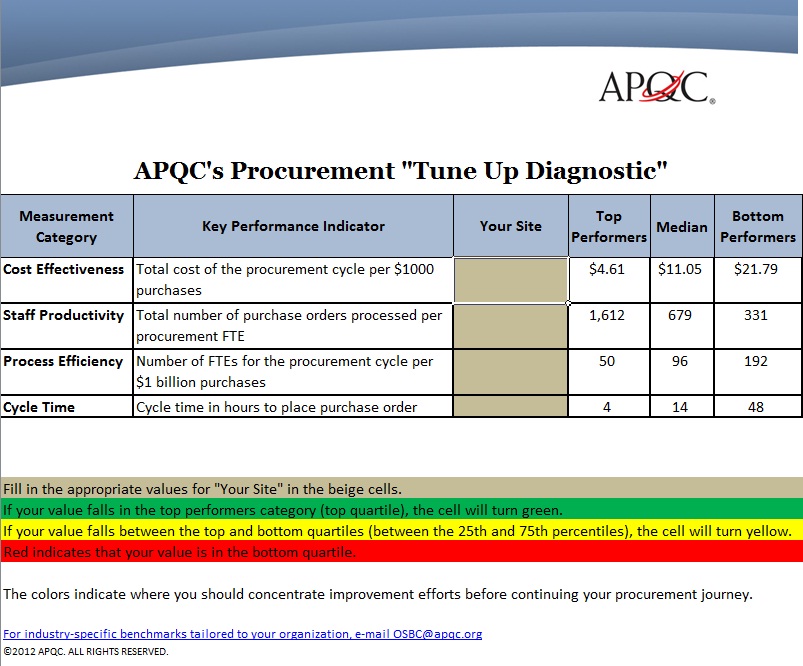 The Interactive Procurement Tune-Up is a spreadsheet that allows you to input your organization's performance on those metrics and compare it to that of the organizations in the Open Standards Benchmarking data. It even color codes your input to quickly give you an idea of where your organization can improve.
Because of the popularity of our Procurement Tune-Up tools, we're working on similar tools for logistics, manufacturing, and supply chain planning. Stay tuned!