6 Reasons Why Rockwell Collins Has Great Knowledge Management and You Don't

Every knowledge manager is looking for a silver bullet that will make KM successful in their organization. Unfortunately, as many of you know, building a world-class knowledge management program isn't "paint by numbers." The best approach depends on the business problems KM is intended to solve, the level of buy-in from senior and middle management, the underlying IT infrastructure, the organizational culture, and a host of other contextual factors.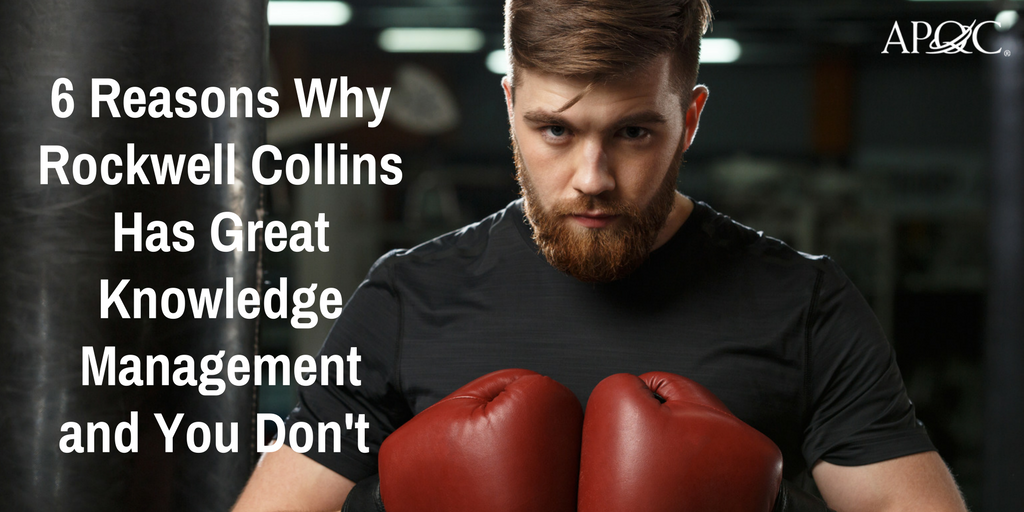 That said, if you want a shortcut to figure out what works, your best bet is to study a well-regarded KM program that has stood the test of time. Earlier this year, I had the pleasure of doing just that when I interviewed the leaders of Rockwell Collins' knowledge management and training (KM&T) team. Rockwell Collins has had a formal KM program since 2000, first within its engineering function and then expanded to the enterprise level in 2011. Over the last 17 years, the KM&T team has learned a lot about motivating employees to share knowledge, supporting innovation, and creating value for the business.
Here are a few of the driving factors behind Rockwell Collins' ongoing KM success, based on my experience talking to the KM&T team and observing the company's KM efforts over the past few years.
Alignment with business strategy. Rockwell Collins' KM strategy aligns with the organization's strategic financial plan. This annual plan anticipates needs and sets direction five years out. Based on Rockwell Collins' overarching focus each year, KM serves a varying role based on how much it can support the current strategic goals.
An emphasis on organizational outcomes. Because of the links between KM and business strategy, the KM&T team stays focused on making the organization more efficient and effective, rather than getting caught up in KM for KM's sake. "Knowledge management is a means to an end," said Mike Gries, Director, Avionics Certification.
Objective third-party evaluation. Rockwell Collins first participated in APQC's Knowledge Management Capability Assessment Tool (KM CAT) in 2011. As an organization with an engineering mindset and leadership predisposition to objective assessments, it saw the KM CAT as a way to show leaders how the program compared to industry peers while acquiring actionable data to set priorities and guide future direction. The team completed the CAT a second time in 2015 and plans to do so again in 2018 in order to gauge progress and recalibrate its path to continuous improvement.
Thoughtful change management and communication. When introducing a new initiative or improvement, the KM&T team first identifies its target audience, including leaders and end users. It then tailors messaging to generate awareness and interest. It also assesses the need for training and decides on the most appropriate delivery format, be it an on-demand video, a brown bag lunch, or a classroom course.
Patience and perseverance. During my interview, KM&T members cited the importance of setting realistic expectations and timelines. Simply put, it can take time to progress, and it's important to manage leaders' expectations regarding when and how KM will provide demonstrable value to the business.
Openness to change. Despite the long-term success of its KM toolkit, the KM&T team understands the need to adapt to the changing IT landscape. Rockwell Collins recently updated its expertise locator and enterprise wiki technology, and it is in the process of implementing new tools for video-based knowledge sharing and virtual classroom delivery.
APQC members who would like more details on Rockwell Collins' KM journey can download the full case study: Building a Mature Knowledge Management Program at Rockwell Collins. Additional case studies on successful KM programs can be found in APQC's Achieving KM Maturity and Business Impact Collection.
Tweet