5 Ways To Better Knowledge Management Blog Posts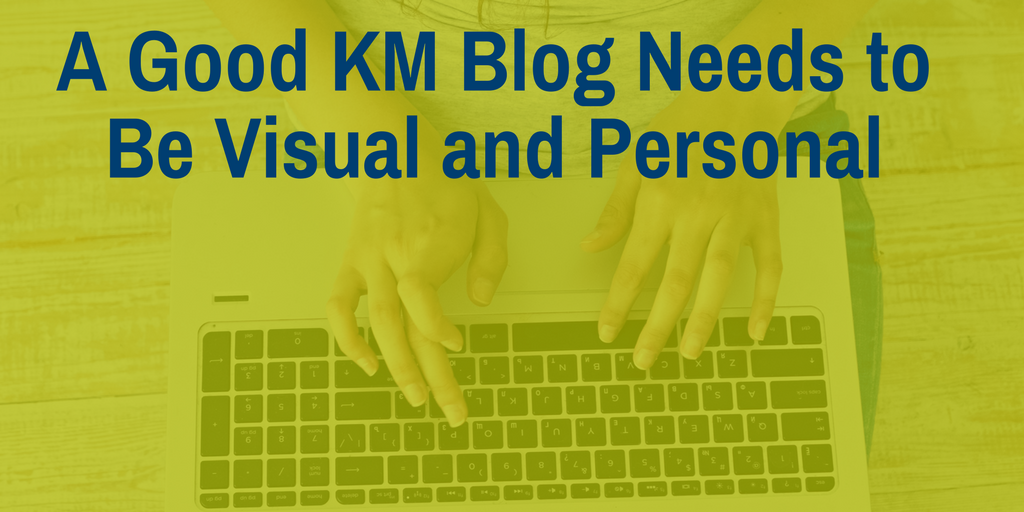 We were recently treated to a departmental meeting featuring a guest speaker, our own boy genius Ralph Marlbrough, APQC SEO and social media manager, talking to us (by request) about how to write a good blog. As I was avidly listening to him and taking notes, I thought to myself, "Self, this information might be relevant to others out in the blogosphere!" Therefore, I thought that I would share some pointers and tips from the expert at APQC in terms of how to write a good blog:
Tip #1: Keep it short: According to Ralph, a good blog should ideally range from about 350 to 400 words (no more than 800 words maximum). A blog is not an article or a report. Blogs are generally short posts written in an informal style.
Tip #2: Make it visual: When we blog at APQC, Ralph and our marketing team typically create a matching and fun graphic for us to include in the blog. The use of pictures/graphics helps to make the blog visually appealing, and visual appeal is one of the most important tenets of our content quality standards.
Tip #3: Catch the audience's attention: Ralph says that, on average, each potential reader will spend about 8 seconds deciding whether or not they are going to read your blog, so you better capture the potential reader's attention quickly. For this reason, the meta data that you assign to your blog is very important. And, according to APQC's analysis of our blog traffic, there are three primary factors that drive blog readership (and certainly these factors may vary depending on the blogger/audience): a) Spotlight an organization or a key search term that will generate a lot of interest; b) ideally share a point of view on a particular topic that you want to write about; and c) help the reader to problem solve (e.g., the blog presents an issue or challenge also faced by the reader, and one or more suggested solutions).
Tip #4: Share your blog via multiple venues: At APQC, of course we share our blogs as part of our overarching social media strategy in an effort to contribute to brand and subject matter expertise recognition. But from a personal standpoint, it is also important to do your part and share your own blog, either via Twitter and/or on your own Linked In site.
Tip #5: Make your blog personal: In addition to taking a stand and sharing a point of view in your blog, it is also a nice touch to share a little bit about yourself, such as via a short "About the Author" blurb at the bottom of the blog. Why not? It can be a nice touch, and helps the potential reader to relate to you and the content a bit.
I hope this "metablog" has been helpful to you, the reader, and for an example about how one of APQC's prominent member organizations leverages external blogs in the KM space, visit our recent article Blogging to Deliver More than Hits at MITRE.
About the author: Rachele Collins, SPHR, SHRM-CP, Ph.D., has potentially too many letters after her name and is a senior research analyst at APQC, part of the teams responsible for human capital and knowledge management research. She has been with APQC for a little more than 16 years, and started working there when she was 12. She enjoys reading fictional novels, the occasional self-help book, and watching NBC's Dateline on Friday nights with her very handsome husband, Jeff. She can be reached at rcollins@apqc.org, or 713-685-4697.
Tweet