Benchmarking for Professional Services
Give your clients the competitive edge by seeing where they rank against peers and best-in-class organizations. APQC offers ongoing benchmarking research to fulfill your need for reliable, validated, third party data. You submit the appropriate data on behalf of your clients, and we provide the gap analysis and a custom report.
Key uses of benchmarking findings:
Support your client's annual planning and budgeting.
Use as a tool to target top priority improvement areas for your client.
Aid in restructuring, merger or outsourcing evaluations.
Create a baseline for enterprise resource planning (ERP) or other technology implementations.
Scale. Speed. Cost.
A more efficient data collection process allows you to focus your clients on the gaps and improvement needs of reducing cost and cycle time or increasing productivity.
Benefits include:
commonly agreed-upon, consistent definitions and performance measures; blinded, normalized, and aggregated data sets;
an active, growing database with over 9,000 global submissions and peer group segmentation;
dramatically shortened benchmarking cycle time with reports delivered in as little as a couple of days to a couple of weeks;
validated and safeguarded data by APQC.
It's simple. Get started today. Below you'll find APQC's benchmarking resources, their level of detail, timelines, and report structure.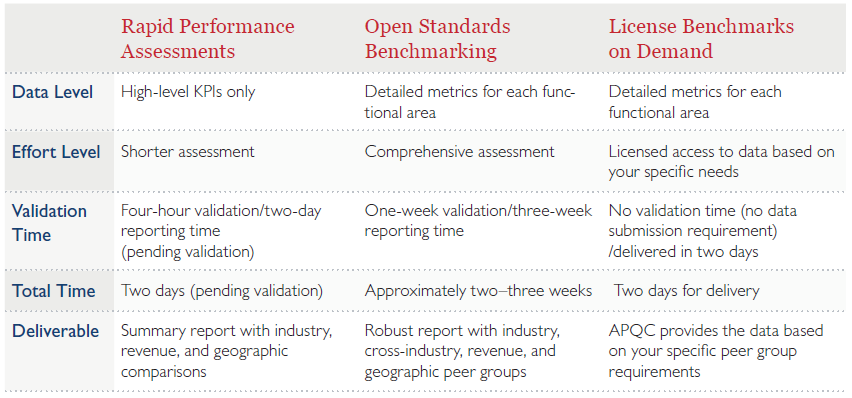 Who can you call to get started?
Cathy Hill
Executive Director, Sales & Global Alliances, APQC
+1-713-685-4652 – Direct
800-776-9676 ext. 4652
chill@apqc.org