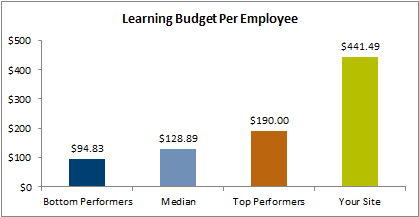 Assess the role, maturity, and effectiveness of your corporate HR function'stalent management capability by completing the Open Standards BenchmarkingSM Talent Management Assessment.
Your organization's performance will be compared with other organizations in our database on Develop and Counsel and Reward and Retain key performance indicators including number of learning days per employee, percentage of employees who attend management development programs, cycle time in days for the formal performance review process from start to finish for middle management/specialists, Total cost to perform the process "Manage employee performance" per $1,000 revenue and number of days absent per employee including maternity and paternity leave.
There may be a fee associated with your participation. For more information, please check the Open Standards Benchmarking fee schedule.
APQC collects data using a Microsoft Excel spreadsheet-based system. Please click the "start assessment" button to download the assessment file. This file contains the survey, all related glossary terms, the measures computed by APQC, and a copy of the Process Classification Framework. You may review and complete this file at your convenience. Send the file as an attachment to osb@apqc.org when you are finished collecting data. For more information, please review our frequently asked questions.
If you would like to complete multiple surveys for multiple business entities or in more than one process area, or would like additional guidance, please contact the benchmarking Help Desk at +1-713-681-4020 or osb@apqc.org.