Reward and Retain Employees
Avoid spending hundreds of thousands of dollars every year recruiting and training new employees to replace the ones who leave by assessing your rewarding and retention processes with the Reward and Retain Employees Open Standards Benchmarking Assessment. Identify key measures and reveal core standards of superior performance that give managers the intelligence to build competitive benefits plans and compensation scales.
Up to 25 percent of new hires at bottom-performing organizations leave within the first year, which indicates a tremendous opportunity for better selection and on-boarding programs at these organizations.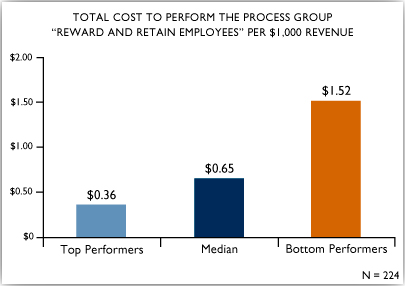 This assessment will help your organization better manage and execute the following processes:
Administer benefits enrollment
Administer compensation and rewards to employees
Deliver employee benefits program
Deliver programs to support work-life balance for employees
Develop benefits and reward plans
Develop family support systems
Develop salary/compensation structure and plans
Identify compensation requirements based on financial, benefits, and HR policies
Perform benefit reconciliation
Perform competitive analysis of benefit and rewards
Process claims
Review compensation plans
Review retention and motivation indicators
Reward and motivate employees
There may be a fee associated with your participation. For more information, please check the Open Standards Benchmarking fee schedule.
APQC collects data using a Microsoft Excel spreadsheet-based system. Please click the "start assessment" button to download the assessment file. This file contains the survey, all related glossary terms, the measures computed by APQC, and a copy of the Process Classification Framework. You may review and complete this file at your convenience. Send the file as an attachment to osb@apqc.org when you are finished collecting data. For more information, please review our frequently asked questions.
If you would like to complete multiple surveys for multiple business entities or in more than one process area, or would like additional guidance, please contact the benchmarking Help Desk at +1-713-681-4020 or osb@apqc.org.